It's easy to remember the not-so-great from 2021. But we're here to celebrate for a moment or two, because we are so proud of the Green Seattle Partnership community and all we accomplished this last year. Staff at 25+ partner organizations and agencies came together with 177 paid participants and volunteers that donated 30,866 hours of time during hundreds of community events to work at 119 parks to weed, plant 54,394 native plants, and learn from each other and from Mother Earth.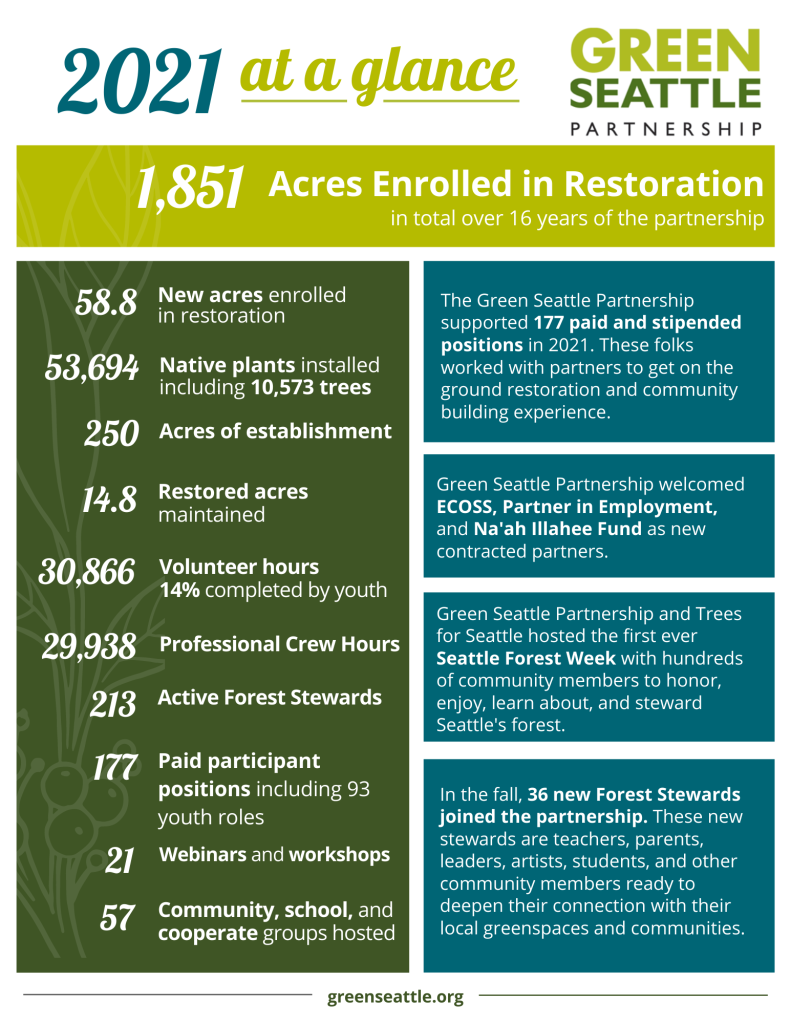 Thanks to All Who Made it Possible!
Thousands of individuals come together to support our natural areas in Seattle each year through the Green Seattle Partnership. In 2021 these folks were staff from partner organizations and professional crews, volunteers, students, Seattle Parks and Recreation staff, and other Seattle residents invested in the future of our city.
Seattle Parks and Recreation support includes the work of many skilled teams. The Natural Area Crew, Heavy Crew, Parks' Maintenance District Crews, Trails Program, Urban Forestry Crew, Greenhouse horticulturalists and the Plant Ecologists are all vital to the work that happened in 2021. Thank you to Seattle Parks and Recreation for the continued commitment and behind-the-scenes work required to help keep our forests healthy!
The Natural Area Crew deserves special recognition for their daily work supporting the partnership and working on restoration projects. 2021 highlights include planting at Herring's House Park as part of Green Seattle Day. Despite all the rain, the crew led 12 youth and 16 adults to get 440 plants in the ground! The NAC will continue to plant and mulch more at the park in collaboration with the Duwamish Tribal Services in 2022.
GSP is fortunate to have additional funding to hire professional contracted crews to work on areas across the city that need technical support. These crews are vital to the GSP. They climb the steep slopes others can't, respond to extreme events like landslides, re-plant large areas, and support projects in priority areas. Thank you to our professional crew members and all their hard work.
Our partners are also central to the work that is accomplished annually. Partners bring their organization mission, community connections and resources to the collective work of the Green Seattle Partnership. In 2021, GSP partners contributed over $200,000 of to the program, sourced from community donations, private and public grants, and corporate sponsorships. It's another testament to the broad community support this program continues to have.
New Partners and Forest Stewards
In 2021, GSP welcomed 3 new partners: ECOSS, Na'ah Illahee Fund, and Partner in Employment.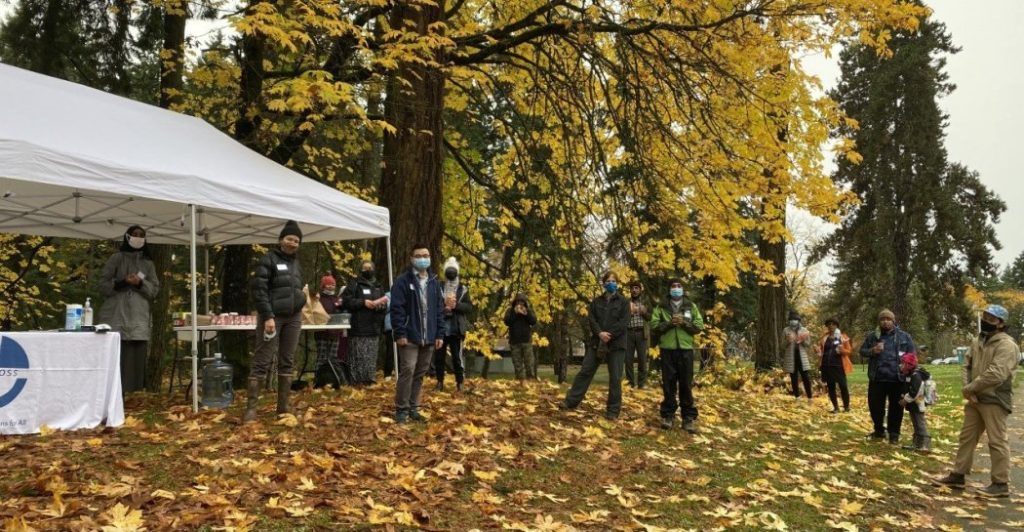 ECOSS invited leaders from Vietnamese, Filipino, Bhutanese, Burmese and Latinx communities in Seattle to help inform future GSP efforts. After hearing from community leaders, ECOSS hosted members of the Vietnamese, East African and Bhutanese/Nepalese communities for a planting event at Seward Park.
For several years Na'ah Illahee Fund has been planning cultural and ecological restoration at Daybreak Star which United Indians of All Tribes Foundation has called home for over 50 years. The restoration work this year centering around the Daybreak Star Ponds led by Na'ah Illahee saw 3 Youth Cohorts consisting of Native American and Indigenous youth, prepared the land to receive Indigenous plant medicines and sacred foods while learning about ecological restoration and the traditional values of land stewardship.
In addition, Na'ah Illahee Fund led community stewardship events where, over the course of 3 months, over 80 community volunteers came to Daybreak Star to plant these sacred medicines in a good way. Led by prayer and good intentions, we hope to honor the land and be good stewards for the next generation. Directed by local filmmaker Dallas Pinkham (Yakama/Southern Cheyenne), this film project was made to document the work for future generations. Check out Na'ah Illahee Fund or United Indians of All Tribes to learn more.
Partner in Employment's Youth Restoration Training Crew spent 6 weeks working in Seattle at Kubota Gardens Natural Area and Westcrest Park. In 2021, 23 teenagers and young adults got on the ground restoration and job training experience on the Youth Restoration Training Crew. Crew Lead Madeline Cooper said, "The youth who led our Earth Day volunteer event in Kubota demonstrated the knowledge and skills they had gained, not just in the restoration work they completed, but in their ability to communicate with volunteers to introduce and lead the event."
In addition to new Partners, we were also very excited for the 36 new Forest Stewards who went through training and began working across the city in the fall of 2021. To the left is a map of where they are working across the city. You can find events hosted by many of these new Forest Stewards at seattle.greencitypartnerships.org.
In 2020, we analyzed our Forest Steward demographic data and noted our Forest Stewards largely did not represent the demographics of people in Seattle. In 2021, we worked to remedy this with an updated position description, intentional outreach, and an application for prospective Forest Stewards. Of the 36 new Forest Stewards, 38% are People of Color, and 68% are under the age of 40. Many of these new Forest Stewards are teachers and will be working in Parks with students and their families. Thank you to all of our 213 new and returning stewards for all their time and energy!
If you are interested in becoming a Forest Steward, you can find more information on our website.
Priority Area Investment
Seattle has a disproportionate distribution of green spaces and impervious surfaces. Mapping work done by King County and City of Seattle shows the effects of this very clearly – areas of the city with lower canopy cover and more cement surfaces, get much hotter throughout the year. These areas are non-coincidentally where People of Color were redlined into living until 1977, and continue to be where many People of Color live today. Some of the ONLY things that keep our neighborhoods cool are our proximity to Lake Washington, Puget Sound and our urban forest. GSP continues to work towards our goal of completing 75% of our on the ground work in priority areas.
IIn addition to supporting community-based organizations and individuals, GSP includes professional crews coordinated by Seattle Parks and Recreation that focus in these priority areas. The work includes planting sensitive species of trees into the cooler, wetter and hard-to-access ravines to support climate change resilience. As an example, the East Duwamish Greenbelt (adjacent to Interstate 5) continued to see restoration investments in 2021.
Restoration Science
Green Seattle Partnership continued to support scientific inquiry that helps us learn about Seattle forests and improve our restoration practices. In 2021, we continued to assess restoration progress, revisiting permanent monitoring plots to understand how the forest is changing. As part of the Forest in Cities collaboration described above, we also collected soil samples to learn more about carbon sequestration and storage in Seattle natural areas—results expected in spring 2022.  Community science efforts continue to inform our work to restore Seattle's forests, including our understanding of amphibian breeding, carnivore tracking, salmon spawning, and forest health. Stay tuned for more opportunities in 2022 to learn from and contribute to ecological assessment efforts.  
Educational Workshops
In collaboration with our partners, Cascadia Consulting, we were able to host educational workshops for the GSP community. Links to recordings from our 2021 trainings are below:
Cascadia Consulting also helped support our GSP Youth Ambassadors who created 3 virtual trainings in 2021 including the Impacts of Environmental Racism in the Duwamish Valley, and How You(th) Can Take Climate Change into Their Own Hands. The 2021 GSP Youth Ambassadors also co-hosted a restoration event in the fall with Seward Park Audubon.
We are very grateful for all the folks who joined us on Instagram Live in 2021 to learn together in real time. You can find many of these conversations on our Instagram @GreenSeattlePartnership.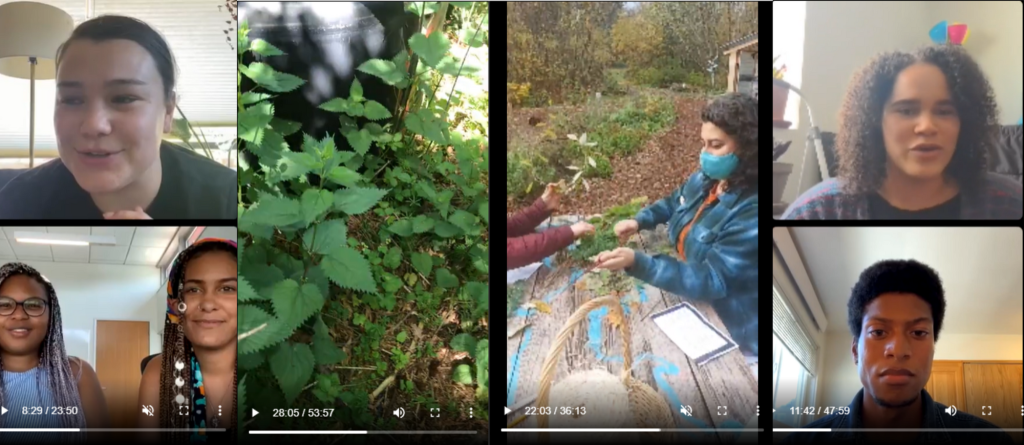 We were able to get out in person a few times to learn together in person in 2021. Over the summer GSP and Partner Organization staff met to talk about all things plants in 5 'Plant Chats' with the High Point community. We love these opportunities to talk about plants and urban forestry in person, and hope 2022 allows for more in-person opportunities to learn together.
Community Events
Thank you to every one of you who contributed your time to the Green Seattle Partnership in 2021! You all donated 30,866 hours of your time to Seattle's parks in 2021. Together 57 different community groups came out to GSP events in 2021. Some of these groups came out multiple times like the Stewardship Squad and the Ingraham High School BRIDGES Interns! Folks have many different reasons to join Green Seattle Partnership Community events. Whether you came out for Green Seattle Day or another Seattle Forest Week Event, joined a friend or your high school environmental club for a restoration event, or joined another way, we are incredibly grateful you chose to spend some time with us outside in Seattle's parks.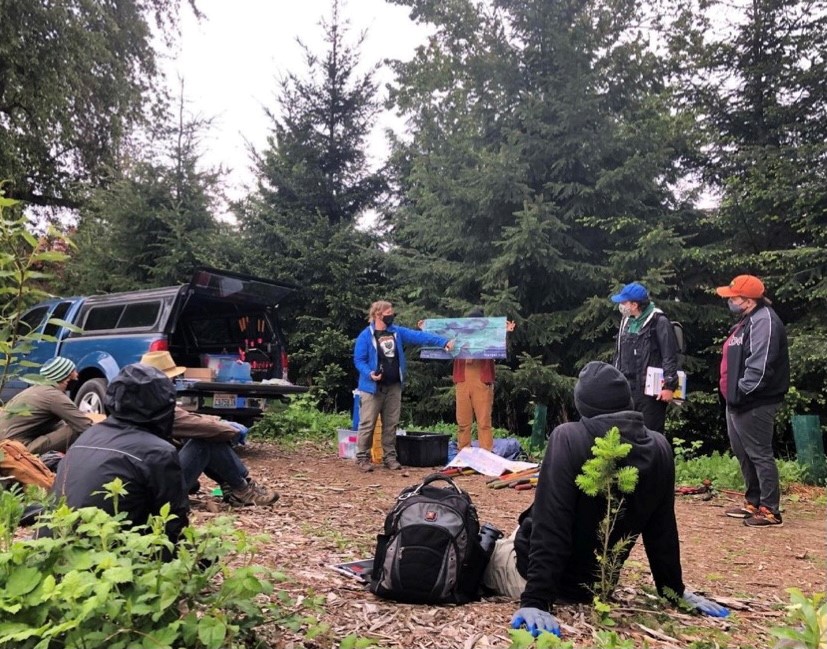 In addition to volunteer opportunities, GSP helped to support 177 paid positions in 2021. Many of these paid positions focused on training community members for future jobs in the environmental world. One of the first GSP partners to create a paid training position were the folks at DirtCorps. As part of their comprehensive training program, 23 DirtCorps trainees helped restore Westcrest Park in 2021. Trainees learn about green infrastructure, ecological restoration and urban forestry. Many of DirtCorps' job training participants go on to work for local non-profit organizations, professional landscaping crews, or start their own businesses.
Thank You!
Thank you to this Green Seattle Partnership community for everything. Healthy greenspaces are for all of us, and year after year this community reminds us how much support we have to create healthy greenspaces and healthy communities. You can find the Best of 2021 GSP photo album here.