Volunteering with the GSP
Volunteering with the Green Seattle Partnership is a great way to give back to your community, get outside, and improve the health of a local park. Everyone can help keep our forested parks healthy and green! No experience necessary. Find a community event at the map and calendar linked below. Questions? Please email us at info@greenseattle.org.
Find a Volunteer Event Near You
What to Expect
Come Ready: When you attend an event, you'll get all the training you need when you arrive! If you're curious about the kinds of activities you might be doing, or if you just want to prepare yourself, you can check videos on our YouTube channel on topics like planting and removing ivy and blackberry. 
Event Details: Look for more information on what to wear, where to meet, and other common questions in the event posting, or reach out to the event host. Contact information can be found in the event link on the calendar or map at: https://seattle.greencitypartnerships.org/event/map/.
COVID-19 Considerations: Although vaccinations and masks are no longer required to participate, please continue to do your part to keep our community safe. Do not attend if you are sick
Learn More!: Explore the world of the Green Seattle Partnership at our blog, on social media, or by signing up for our monthly online newsletter, all linked below.
Organizations
If you are an organization looking for a large-scale volunteer event (over 10 people):
First, look at existing events: CEDAR has many scheduled volunteer events all over Greater Seattle, many are reoccuring events scheduled months out in advance. When you find an event suitable for your group, you can directly contact is Forest Steward lead by clicking the event and emailing the person under "Contact".
Custom volunteer events: If your group is too large or there is not an opportune event already scheduled on CEDAR, please reach out to info@greenseattle.org with the number of volunteers you have, preferred dates, and location. Please note that volunteer events are organized by our amazing Forest Stewards and we cannot guarantee availability for your desired event.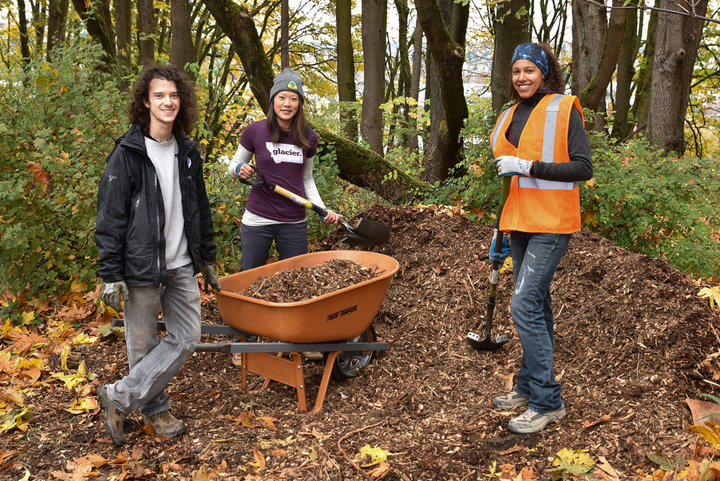 Business Resources
Local business play a critical role in the Green Seattle Partnership. Through sponsorships, in-kind donations, and team-building service days, your business can help the forest to thrive.
A healthy urban forest benefits all of us, from residents, to employees, to those who come to visit. Trees keep our air clean and free of pollutants that cause asthma and other health problems. During rain storms, they reduce flooding and polluted runoff into our waterways. They provide habitat for local wildlife, and places for people to walk, run, play, and take a break from their busy lives. The amazing natural playground of the Pacific Northwest is among the top factors attracting talented employees to live and work here. Community involvement in volunteerism boosts civic pride, and makes neighborhoods more vibrant.
By joining the Green Seattle Partnership, you are helping to create a greener, healthier, and better city for all.
Corporate sponsorship:
We rely on financial contributions from our corporate partners to keep this important work going. Funds are used to purchase tools for new volunteer groups, allow staff to mentor volunteer leaders, create outreach materials to better engage the community, and keep us working towards program goals.
Call (206) 905-6911, or email Courtney to talk about sponsorship opportunities.
In-kind donations:
If your business can donate coffee or food to power our hard-working volunteers, branded items like t-shirts or stickers, restoration materials like tools or wood mulch, or large amounts of cardboard or burlap fabric, please let us know!
Call (206) 905-6920, or email info@greenseattle.org to talk about your ideas.
Group volunteer projects:
You can sponsor an upcoming event with your time and create a unique team-building experience for your employees. A national study by United Healthcare and VolunteerMatch found that 81% of those who volunteer through their job say that volunteering has  strengthened their relationships with colleagues. 76% say that they feel better about their employer because of their involvement in their volunteer activities. Find an event on our volunteer calendar and rally a group to join you. Additional support can be a major boost for small neighborhood groups working on a restoration project in their local park.
Find an upcoming event and be sure to register your group in advance so that we can plan a great event for all of our volunteers.