Youth Stewardship Opportunities
Youth Stewardship
Everyone has their part to play in restoring our natural spaces, but now it's clearer than ever that youth have a special role to play in the future of restoration. With climate change and other critical environmental issues reaching a boiling point, this generation's youth have a unique opportunity to gain valuable restoration experience early, and put that knowledge to use during a critical period for the Earth. The Green Seattle Partnership is excited to have plenty of opportunities for you to get involved and gain experience!
The quickest and easiest way to get involved as a youth is to volunteer like anyone else! We have events across the city almost every day of the year. At our volunteer events you will:
Learn about habitat restoration, best management practices for managing invasive species, proper planting technique, community action, and more!
Get hands-on experience with guidance from forest stewards or GSP staff. After attending just a few events you'll be a seasoned veteran! Service learning credits always available.
Make a difference by helping our forested parklands thrive. The work our volunteers do contributes to the health of Seattle's green spaces, and ensures that we'll have access to thriving natural areas well into the future.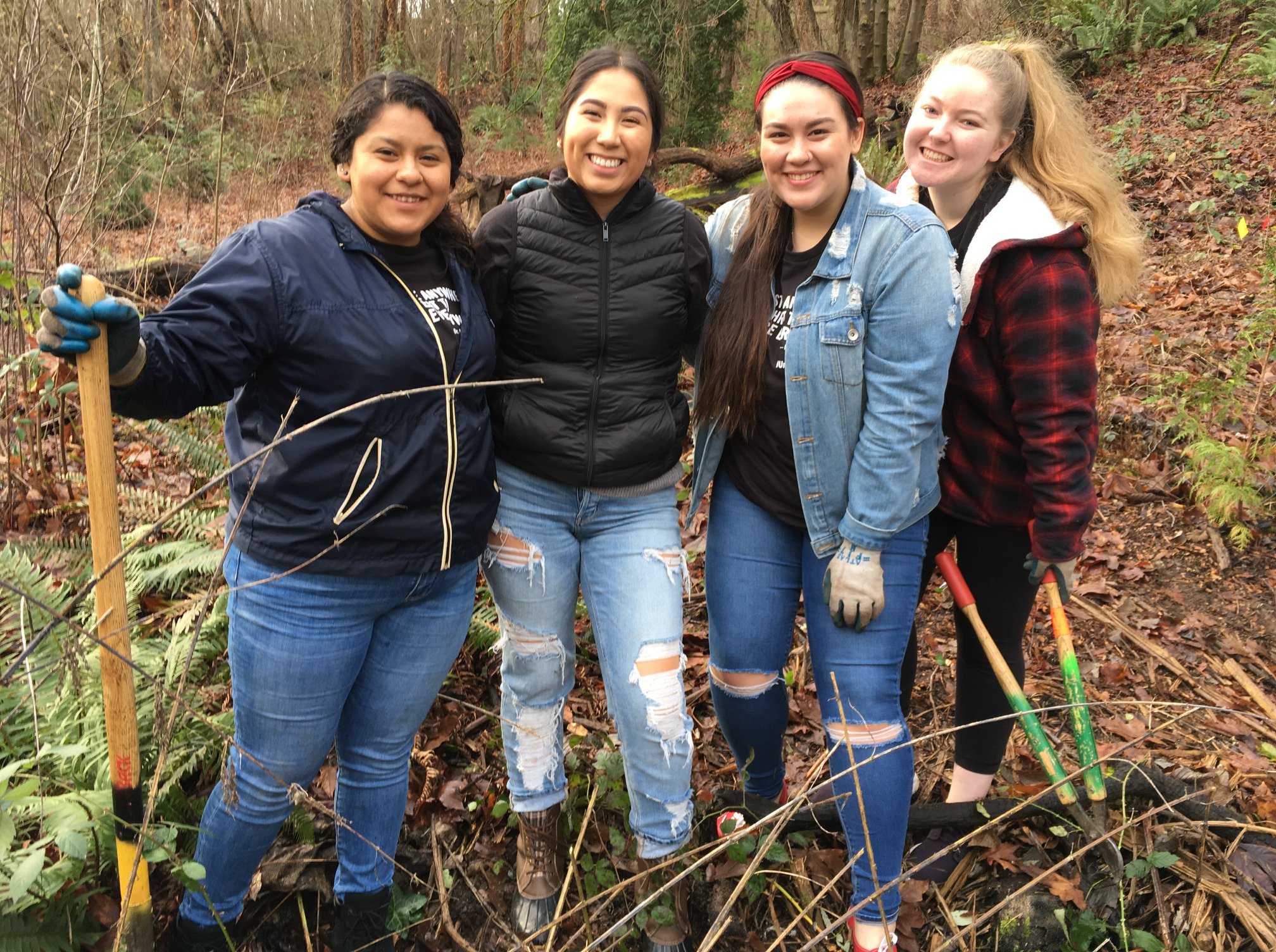 Group Volunteer Events
We accept groups of all sizes, and encourage students to bring their friends and school groups out. Our staff and stewards have experience working with scouts, class groups, environmental clubs, and more! 
If you are an organization looking for a large-scale volunteer event (over 10 people):
First, look at existing events:

 

CEDAR

 

has many scheduled volunteer events all over Greater Seattle, many are reoccuring events scheduled months out in advance. When you find an event suitable for your group, you can directly contact is Forest Steward lead by clicking the event and emailing the person under "Contact".
Custom volunteer events:

 

If your group is too large or there is not an opportune event already scheduled on CEDAR, please reach out to

 

info@greenseattle.org

 

with the number of volunteers you have, preferred dates, and location. Please note that volunteer events are organized by our amazing Forest Stewards and we cannot guarantee availability for your desired event.
Lastly, you'll need to bring a youth waiver if you're under 18 and a parent/guardian isn't present. You can find our youth waivers here.
Become a Forest Steward
Have you volunteered with the Green Seattle Partnership and want to become a Forest Steward? Forest Stewards are volunteers that agree to dedicate a portion of their time to steward a park. As a Forest Steward, you would remove non-native noxious weeds, plant native plants, help plan for the restoration of the park, and host volunteer events. GSP Forest Stewards play an important role in restoring and caring for Seattle's Urban Forest. If you are interested in becoming a forest steward, email info@greenseattle.org to find out how to get started!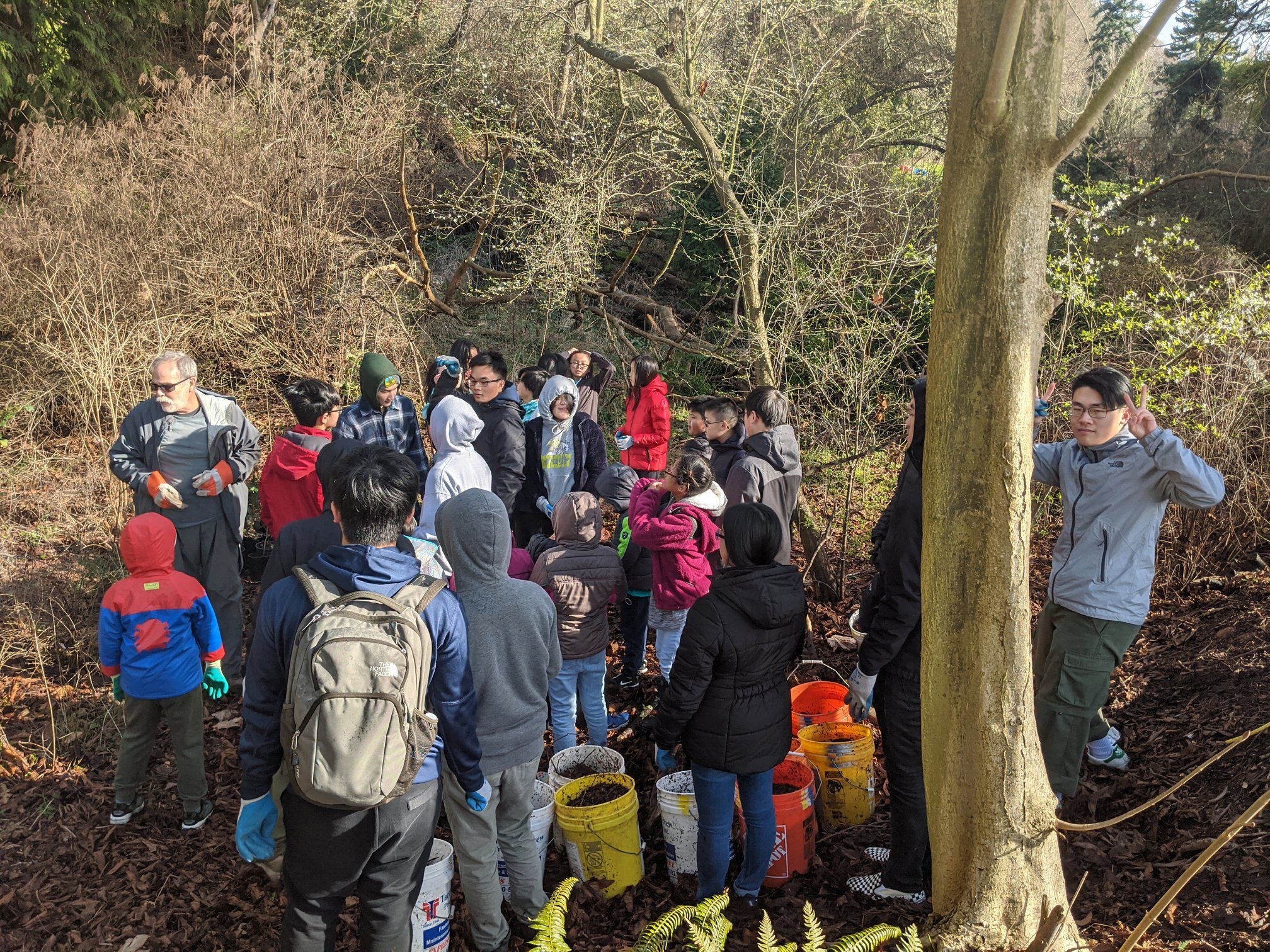 Get Service Hours
Volunteers can get community service hours at any of our events! We also support longer term service projects for interested groups. Contact us at info@greenseattle.org for more information!
Several of our partners hire youth to work in Seattle's parks! Working on a crew is a wonderful way to get job experience, learn about a variety of topics, and contribute to the stewardship of Seattle's urban forest.
Here at GSP we're grateful to have so many partners. The wide variety of groups we partner are all working towards the common goal of caring for Seattle's natural areas. Throughout the network, there are many opportunities to get involved! The opportunities range widely, including volunteering, internships, and education opportunities. To learn more, check out this guide we've put together!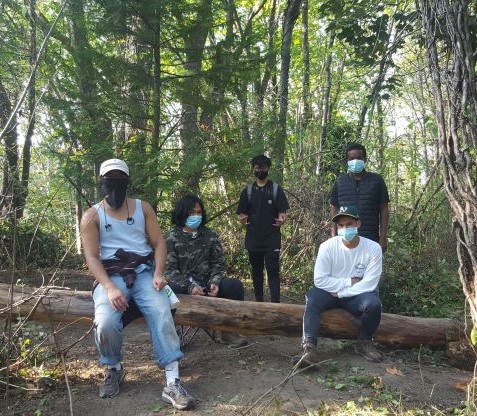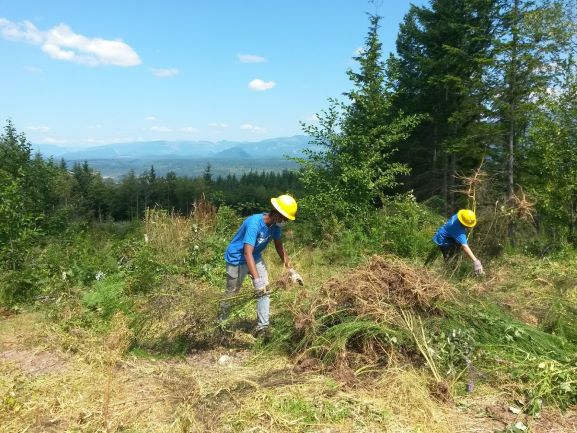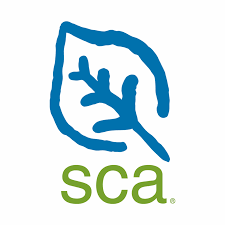 Across the Northwest,
Student Conservation Association (SCA)
is building a new generation of conservation leaders and over the past 30 years, has strengthened the region's youth, communities and environment.
SCA offers young people the opportunity to get outside and make a difference through service programs, lasting anywhere from 2 weeks to 6 months. SCA offers the chance to be apart of something bigger, and a great introduction to conservation work. Whether you want to serve in your local community or explore public lands across the country, SCA has an opportunity for you!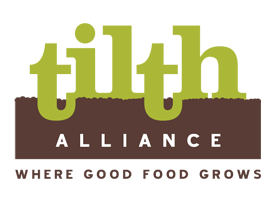 Na'ah Illahee Fund
is a non-profit dedicated to indigenous-led action for regenerative economies, cultural health and self-determination indigenous communities of the Pacific Northwest. Their focus is currently in Seattle, and they have a youth work crew that helps to care for our urban forest in parks.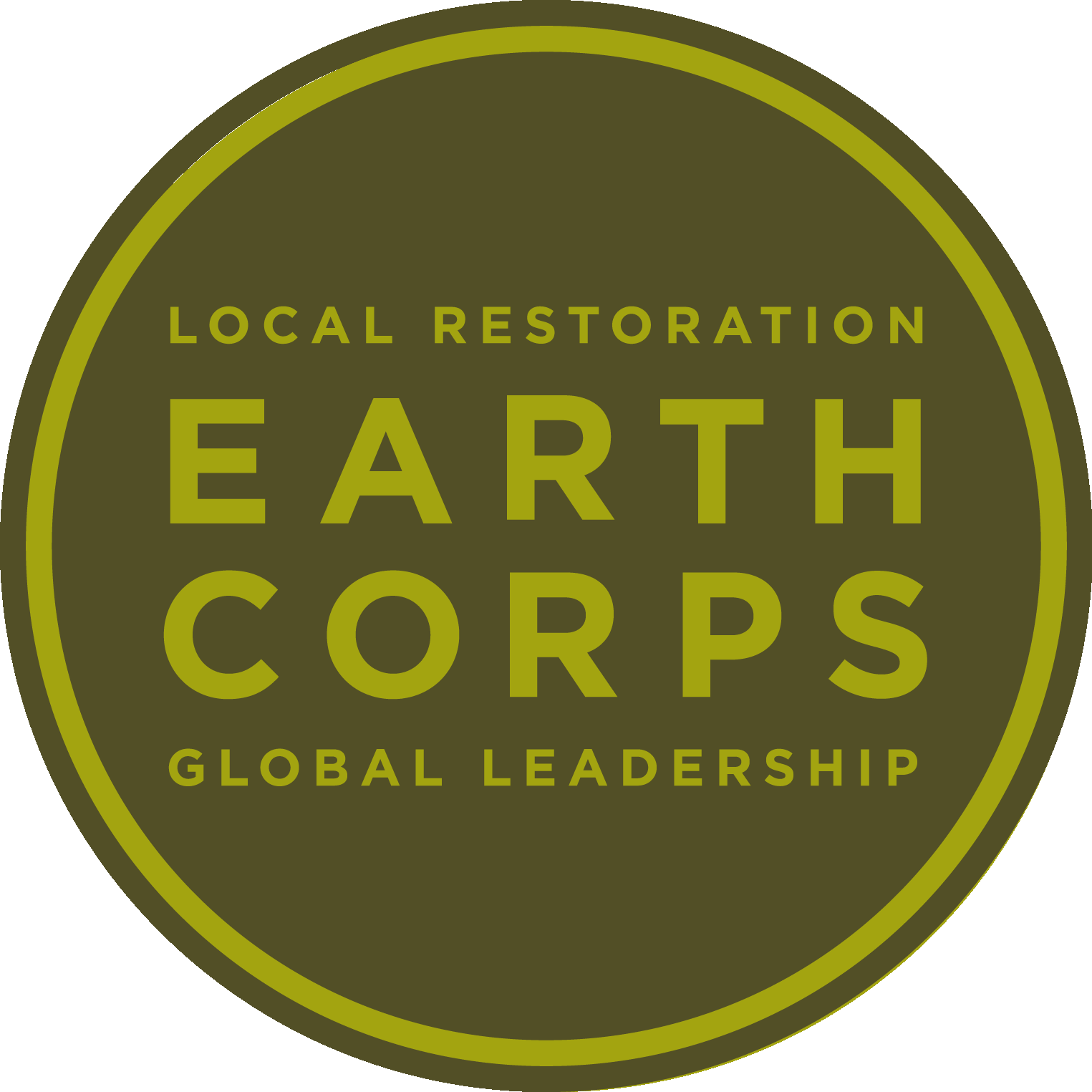 EarthCorps
brings together passionate and hardworking young adults from the US and countries around the world, for a yearlong leadership training program in Seattle, Washington. Corps members learn leadership skills by working collaboratively, leading community volunteers, and executing technical restoration projects along shorelines, trails and in forests.
Green Seattle Partnership (GSP) is seeking two youth aged 15-18 to serve as Youth Ambassadors (YAs). The Youth Ambassador role is a unique opportunity to gain employment skills, take action around local environmental and social justice issues, and make an impact in their communities.
For more details, please read the information below.
Interested applicants should complete this form by August 25th, 2023.
Other Ways To Get Involved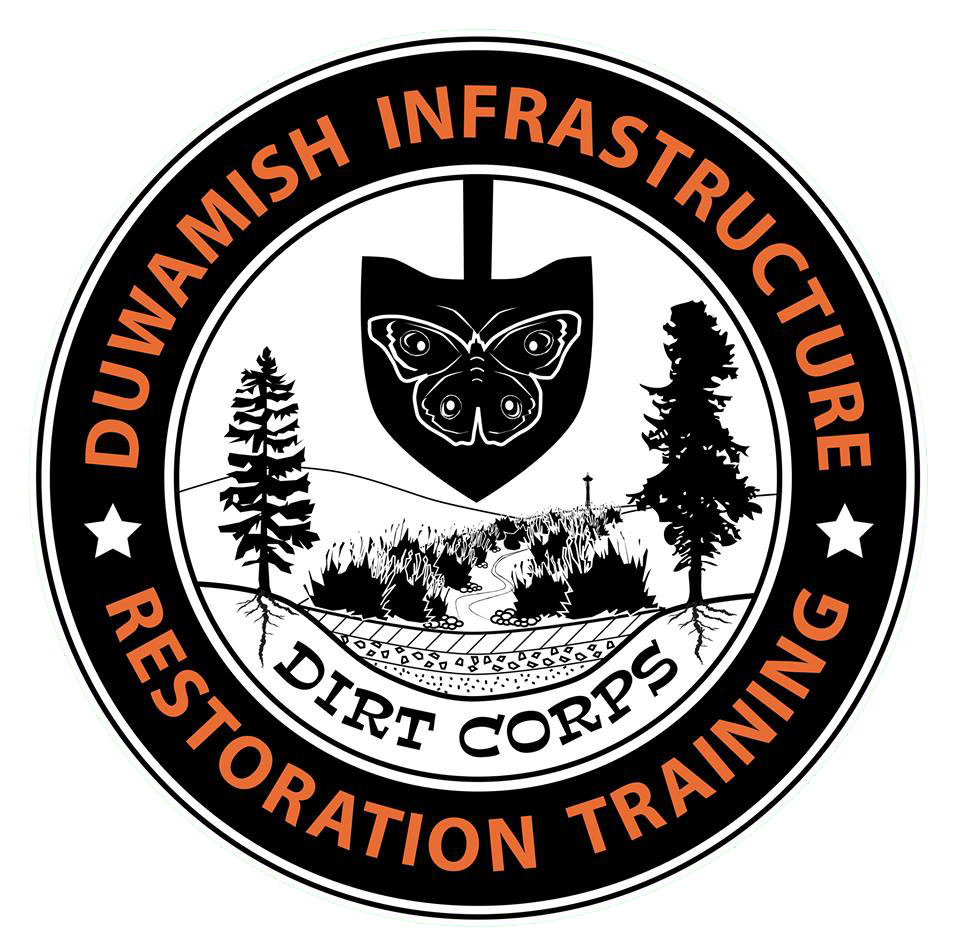 Dirt Corps is a collaborative team of professionals and community partners working together to increase access to green jobs and to foster healthy communities. Our work provides skilled landscape consultation, including design/build, with an equally important goal of sharing our trade with others in our region interested in restoration and green infrastructure.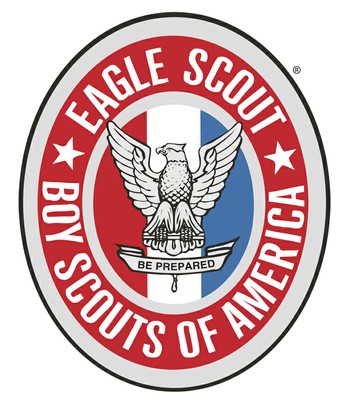 Before getting started with an Eagle Scout Project, please read the following information.
Read the Seattle Parks Eagle Scout Candidate Information Sheet.
Email info@greenseattle.org expressing interest and for further guidance on getting started.
Submit a two-sentence summary of the proposed project to your Plant Ecologist in advance of starting with the Scout.
If there is interest, schedule the project well in advance (recommended at least 3 months) and schedule regular face-to-face/email/phone check-ins with the Scout and GSP staff.