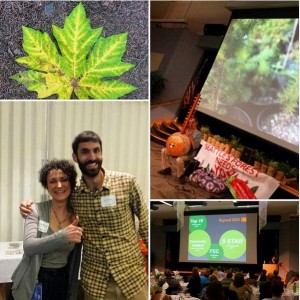 game changer : a newly introduced element or factor that changes and existing situation or activity in a significant way
You make it happen, rain-or-shine you show up, while others just talk about the problem, you actually do something about it | Together, we can accomplish much more | You are bridge-builders, influencers and catalysts, you create ways for others to GET IN THE GAME
We hosted the 5th Annual GSP Shareholders Meeting last Tuesday, September 29, at South Seattle College. 110 people were in attendance representing 30 different partner groups, including forest stewards and regular volunteer from 29 different parks. Twenty-seven different groups presented posters and outreach tables, ranging in topic from wildlife in Seattle Parks to youth programming and illegal camping to vegetation monitoring.
Joanna Nelson de Flores, Forterra's Green Cities Director, greeted the group. Did you know 8 Green Cities across Puget Sound have enrolled over 1800 acres in restoration, with the ultimate goal of restoring 7800 acres of forest? Joanna then introduced the Treenote speaker, Merica Whitehall, Executive Director from Nature Consortium. Speckled with quotes from Alexis de Tocqueville, Whitehall discussed her organization's capacity to mix nature education, education and the arts while also addressing issues of equity in the city.
Jon Jainga, Manager at Seattle Parks & Recreation, delivered the "State of the Partnership" address. His speech highlighted GSP program accomplishments year-to-date as well as accomplishments from the first ten years of the forest restoration program (1,232 acres in restoration, 619,000 plants in the ground, over 781,000 volunteer hours, and 153 active Forest Stewards). Jon introduced the timeline and roadmap for the 10-yr update to the GSP Strategic Plan, and also discussed the benefits of the Metropolitan Parks District rollout in 2016, emphasizing the transparency and reporting essential to the future funding that we will use to increase restoration in the forested parklands.
Shareholder interaction was on the forefront of the agenda. To end the evening's program, HBB Landscape Architecture facilitated discussion on three key questions: "What does the Forest Steward of 2030 look like?" "What strategies have you used to engage youth in your GSP work?" "How can GSP adapt to drought conditions?" Staff collected feedback, and the information gathered will help inform future workplans as well as the 10-yr update.
Thanks to all who attended. We hope you made some great connections AND memories. Don't wait until next year's meeting. What's next?