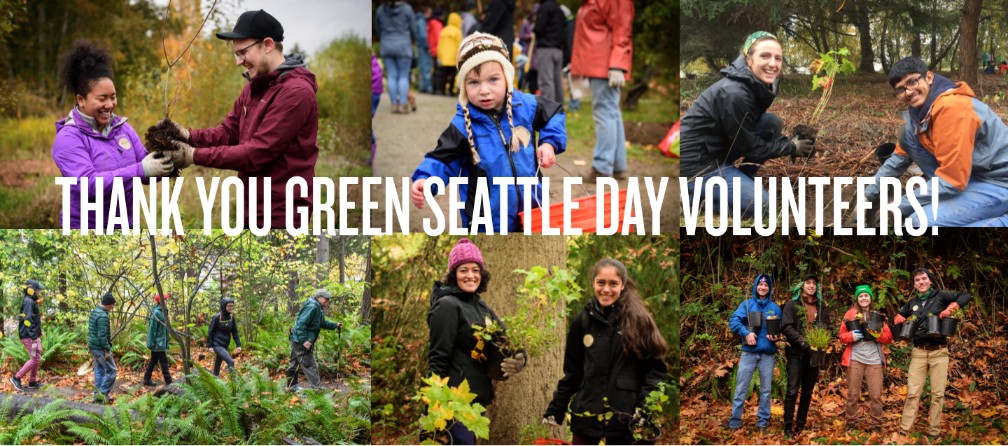 Laying Roots in our Local Communities
For Green Seattle Day 2018, we encouraged Seattle residents to have a hand in restoring their neighborhood parks; to not wander far from home, and to give back in their own neck-of-the-woods.This is because we acknowledge that volunteering in your own neighborhood allows connections to be made between both people and place. Volunteer restoration efforts, like Green Seattle Day, bring neighbors together from all walks of life as they work toward the common goal of greening our city.
We saw the benefits that come from volunteering close to home during our 13th Annual Green Seattle Day! 1,145 volunteers came out to 15 parks throughout the city, planting 8,431 plants in just three hours! The numbers speak for themselves and show just how much of an impact we can make when we all come together! The smiling faces captured in our Green Seattle Day photos also show us just how much fun it can be to work alongside our neighbors, dig in and plant our future forests!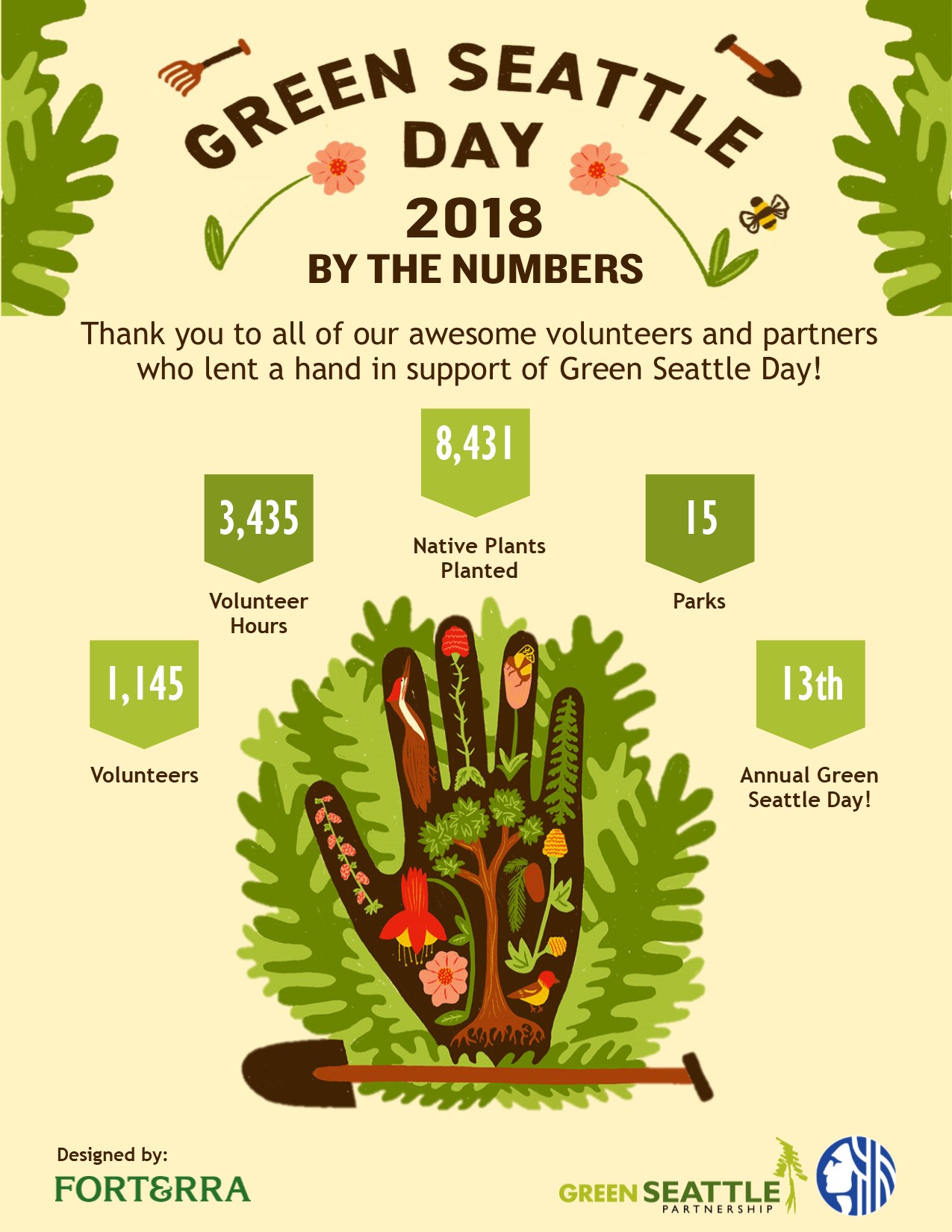 Curious just how many volunteers came out to your neighborhood park this Green Seattle Day? Then check out our park-by-bark breakdown below:
Camp Long: 124 volunteers
Cheasty Greenspace Mt. View: 126 volunteers
Colman Park: 90 volunteers
Discovery Park: 95 volunteers
Golden Gardens: 24 volunteers
Interlaken Park: 30 volunteers
Kubota Gardens: 70 volunteers
Lincoln Park: 34 volunteers
Magnsuon Park: 216 volunteers
Maple Wood Playfield: 62 volunteers
Meadowbrook Park: 41 volunteers
Rainier Beach Urban Farm and Wetland:      81 volunteers
Seward Park: 41 volunteers
Westcrest Park: 52 volunteers
Woodland Park: 59 volunteers
Share Your Story!
Green Seattle Day is a huge reminder of just how giving our community can be! While volunteers like you dig in the dirt and plant alongside new friends, you all are laying roots in your local communities. As we watch our volunteers spread their roots, we can't help but to be inspired by the reasons you all chose to give back this Green Seattle Day.
If you would like to share your story about why you came out to volunteer with us this year, we would love to hear from you! We created an extremely brief survey that will only take two minutes of your time to give us your feedback on what inspired you to volunteer, and to ultimately help us gain more insight into how we can better engage volunteers in the future!
Remember that we host volunteer events all year round, and we can always use your help. Our events calendar is posted on our website, so come out again and keep that Green Seattle Day energy going!
On behalf of the Green Seattle Partnership team, we want to thank each and every one of our volunteers, partners, and sponsors who lent a hand in support of Seattle's forests.
Please share these #greenseattleday numbers loud and proud, and thank you all again for being a part of our tree planting traditions!

Photo Credits: Jim Avery, Margaret Nicosia, Amy Scarfone, Andy Watson