The Green Seattle Partnership (GSP) brings communities together to restore our public spaces through forest restoration events. These events bring neighbors together from all walks of life to work toward a shared goal of greening the city. There are several ways to get local neighbors involved in restoring our local parks. One way is to connect with local businesses and community organizations. These groups can help build a volunteer base, promote a healthier and cleaner forest, coordinate group volunteer efforts, and provide donations for  restoration events. Read on to hear more about how our Green Seattle Forest Stewards are creating connections in their communities, and to learn more about what GSP tools exist to help identify and recruit partners for park.
Community partnerships fuel large tree-planting activities at Kubota Gardens Natural Area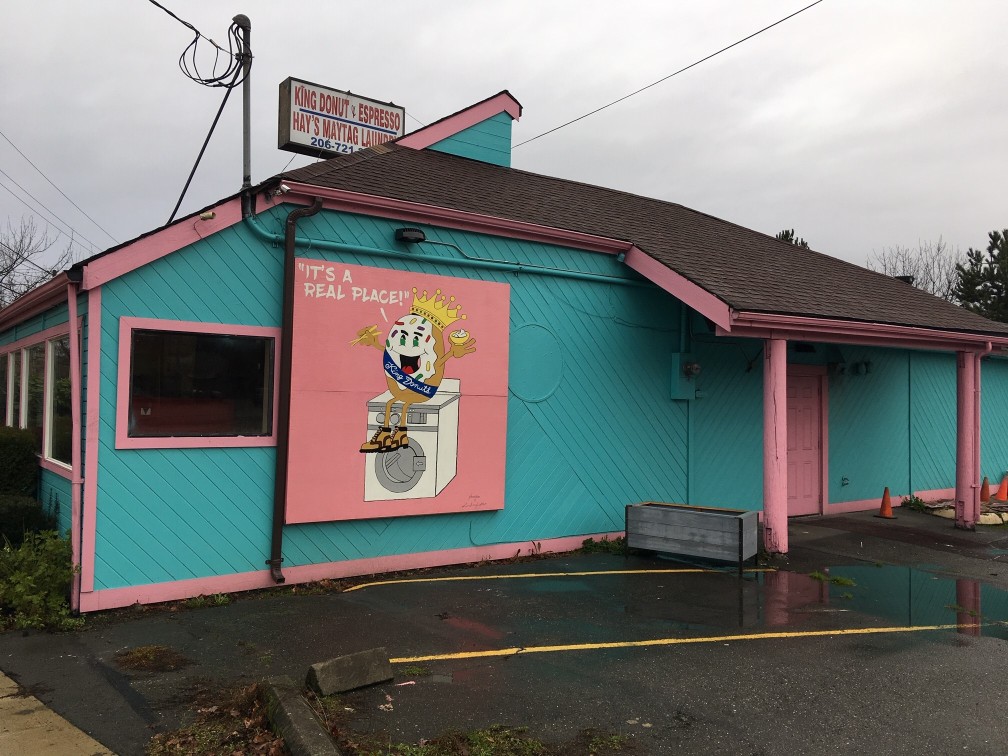 Phillip Osbourne, a Forest Steward of Kubota Gardens Natural Area, hosted a Green Seattle Day restoration event, in which 70 volunteers planted over 800 native plants! This success was made possible through tremendous support from volunteers, program partners, and local businesses. Specifically, with the support from Safeway, King Donuts, and Geocaching, all Kubota Gardens Natural Area volunteers received warm coffee and tea, donuts, and snacks to fuel the tree-planting tasks for the day. These donations are important to the Green Seattle Partnership because they not only provide residents with delicious treats and coffee while they volunteer, but the donations also demonstrate that local organizations are investing in their community. Check out the websites and social media pages for King Donuts, Safeway, and Geocaching below!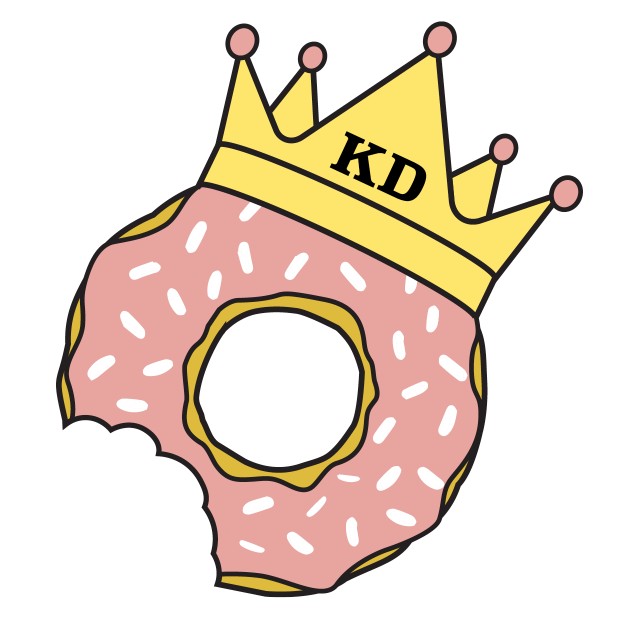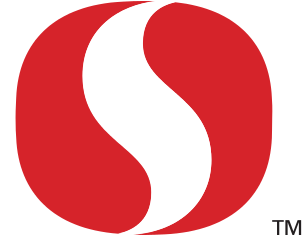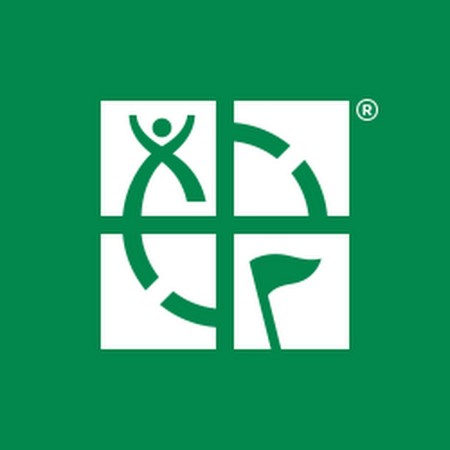 Shared marketing efforts and missions at Green Lake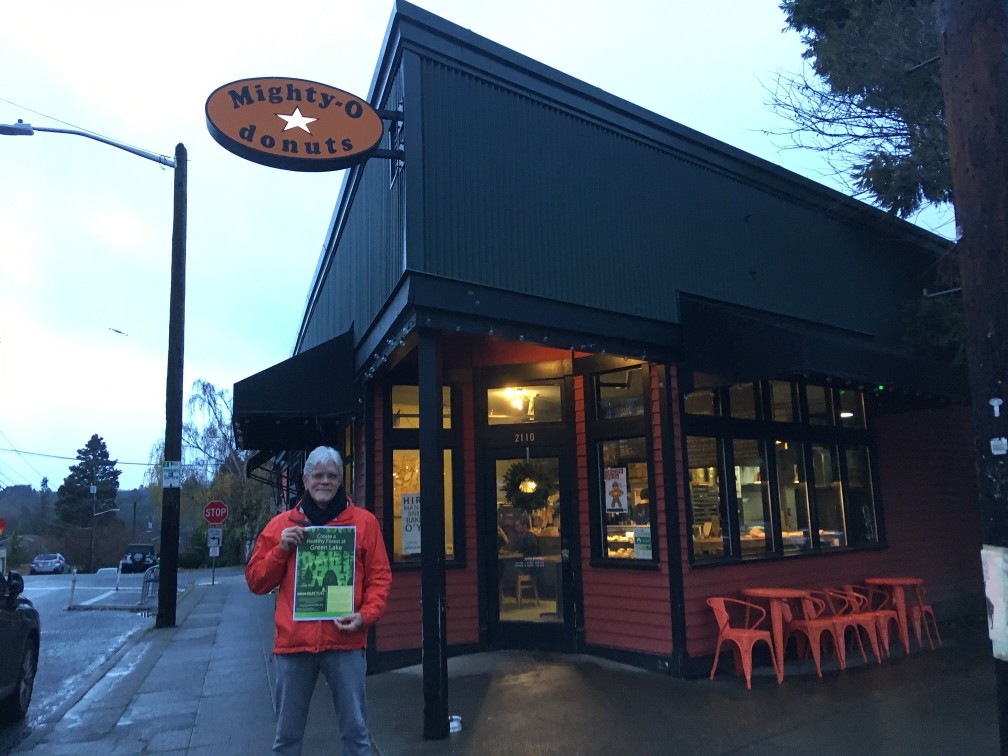 Rob Hutcheson, a Forest Steward at Green Lake Park, is very excited to continue to build community partnerships and expand restoration efforts surrounding Green Lake. Rob hosts monthly events to restore the forested parkland bordering Green Lake. Rob connected with Mighty-O Donuts through door-to-door outreach,  as well as a local Girl Scout troop while hosting an event in the fall. He is planning to host a restoration event in the upcoming year in partnership with both of these organizations. These community partnerships are exciting to see for Forest Stewards like Rob, and organizations like the Girl Scouts and Mighty-O Donuts. Each community partner can benefit from these new relationships, learning about each other's mission and marketing their efforts to new audiences. Check out the Mighty-O Donuts and the Girl Scouts of Western Washington websites listed below!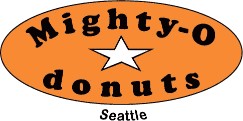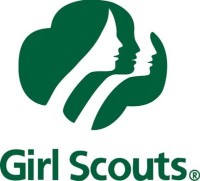 Girl Scouts of Western WA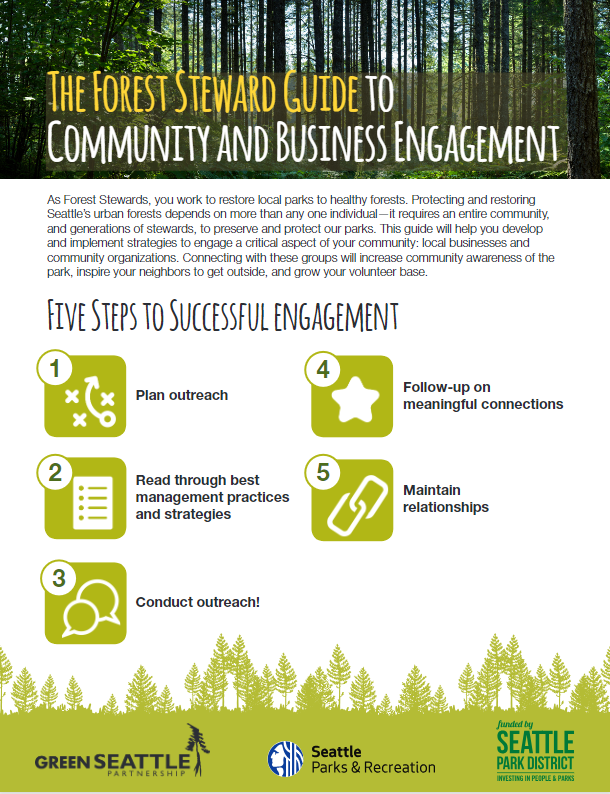 The "Forest Steward Guide to Community and Business Engagement" outlines a plan to successfully reach all people near your park.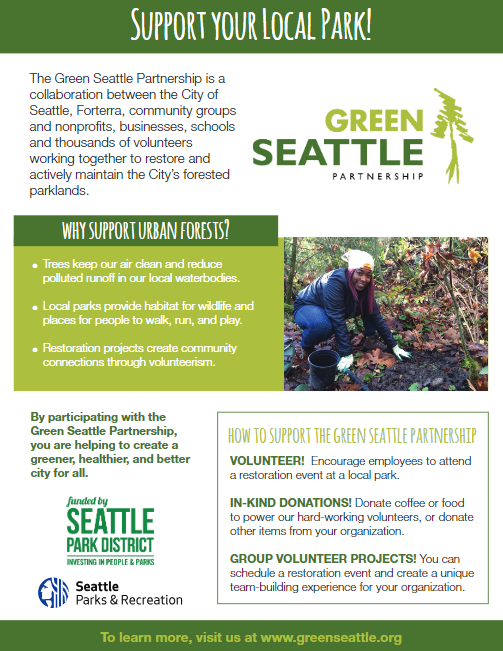 The "Support Your Local Park!" flyer is designed to connect local businesses and other organizations with your park's restoration efforts, providing examples of ways they can help to support your park.
Now, get out there! Go have fun and create community connections! The entire neighborhood benefits from your efforts to build a healthier, cleaner, and safer local park.