— Business and Community Engagement
One of the most important aspects of the Green Seattle Partnership is bringing communities together to restore our public spaces. These events bring neighbors together from all walks of life to work toward the goal of greening the city.
As Forest Stewards, there are several ways to get your neighbors involved in restoring your park. Two important groups that are very connected to your community are local businesses and community organizations. These groups can help build your volunteer base, promote a healthier and cleaner forest, coordinate group volunteer efforts, and provide donations for your restoration events.
The "Forest Steward Guide to Community and Business Engagement" outlines a plan for successfully involving people in your park. Read through the guide to:
Learn strategies and tips to approach your community
Review sample email and in-person communications
Track your interactions through a sample template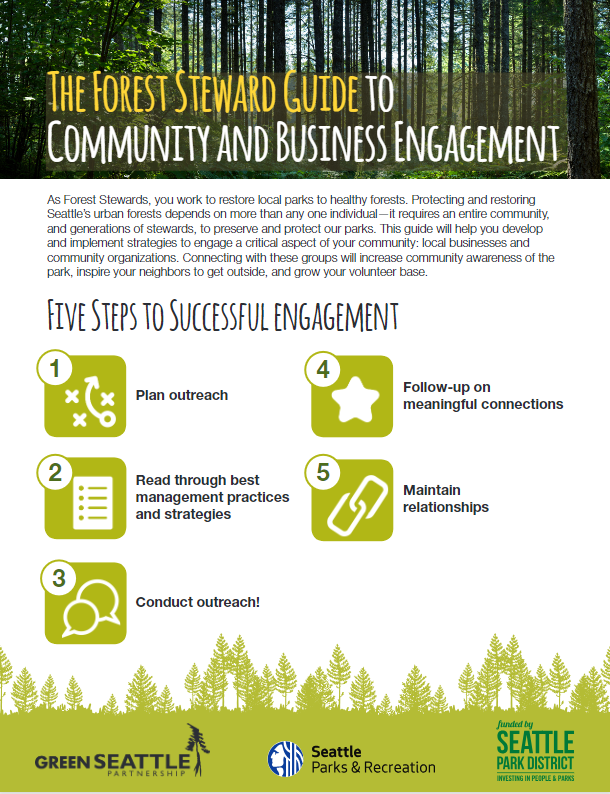 Click the image to view the entire Forest Steward Guide
The "Support Your Local Park!" is a flyer to help facilitate new relationships with your park's restoration efforts and provide examples of ways to support your park. You can use this flyer to:
Conduct outreach, introduce the Green Seattle Partnership, and promote your local park
Ask for donations or group volunteer projects to support future restoration events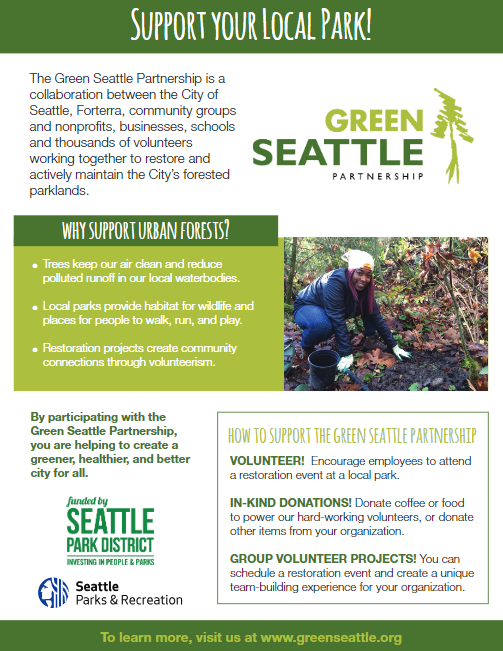 Click the image to view or print the flyer
Go, have fun, and create community connections! The entire neighborhood benefits from a healthier, cleaner, and safer local park.