For 45 minutes, which can be an eternity in kindergartner time, the students hauled buckets of mulch and dutifully emptied them around young native plants. Then finally, it was time to build.
On a sunny Friday along Longfellow Creek, teaching artist Jules Hepp led students in building fairy houses using natural objects they could collect from the ground: sticks, leaves and pinecones. From those humble materials, the students assembled rustic structures with roofs of fallen cedar branches and chimneys made of horsetail.
Integrating art and nature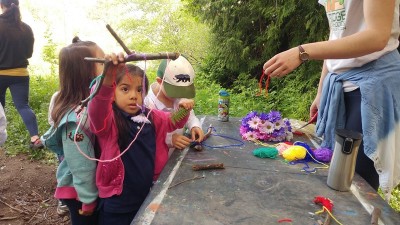 The students from Louisa Boren STEM K-8 school were participating in an EcoArts program, a unique offering from Delridge Neighborhoods Development Association (DNDA) that combines arts and environmental education. Doing so fosters discovery and creativity, and connects participants with the natural world.
"The kids love being in the outdoors, working with what they can find in the woods and making something out of found objects," said Yeggy Michael, Art Programs Director for DNDA.
Expanding and galvanizing an active community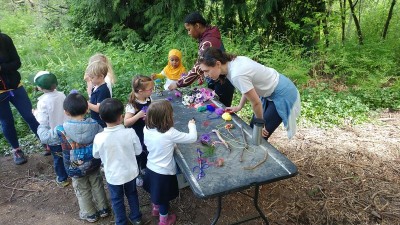 Through its Nature Consortium program, DNDA is a longtime participant in the Green Seattle Partnership, and its mission focuses on "integrating art, nature and neighborhood." Art programming enables students to forge personal connections with natural areas in their neighborhoods; while it also provides a change-of-pace for volunteers who are too young to make it through a full, four-hour restoration event.
Within days of the event led by Hepp, other classes from the school participated in volunteer events with an art component. Teaching artist Perri Rhoden led students in making mobiles with colorful string, found natural materials and fresh cut flowers. DNDA's art and nature programs overlap in other ways, as well.
Music in the woods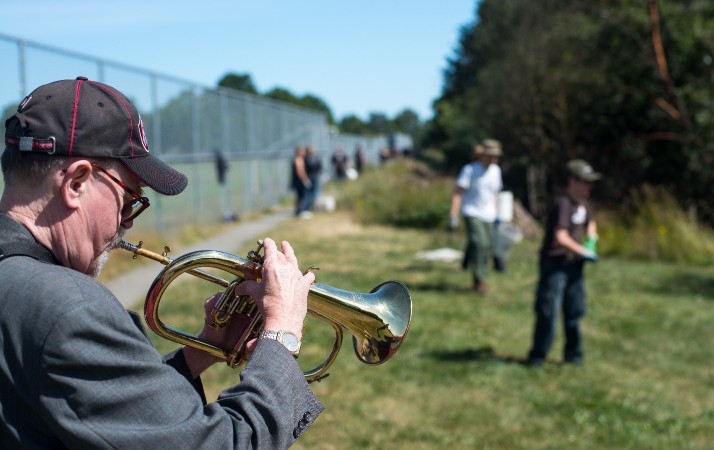 Nature Consortium started the practice of hiring local musicians to serenade volunteers more than a decade ago. This musical tradition has continued since with the Nature Consortium now folded into DNDA. In a typical instance, a musician will arrive as the volunteers return from lunch, and play until the end of the event. The roster of musicians has changed over the years, and has included saxophonists, banjo players, drummers and guitarists.
Professional trumpet player Jim Knodle, who has released two albums and contributed to many more, has been playing for volunteer work parties in the West Duwamish Greenbelt and throughout West Seattle since the mid-2000s. His development as an artist has been helped by the regular "solo concerts," Knodle said.
Get involved   

Are you inspired to find art in nature? Then consider coming out to DNDA's annual Arts in Nature Festival, happening on June 29th – 30th. The Arts in Nature Festival exists at the nexus of art, nature, and community. This free festival offers an eclectic experience of art and performance in the woods of Seattle's only campground, Camp Long. You won't want to miss it!
Prospective volunteers or groups interested in getting involved with similar arts programs can also contact DNDA's restoration team. Or you may decide to be serenaded by our musicians by coming out to one of our regular volunteer events. A full calendar of available events can be viewed through the Green Seattle Partnership website or at www.dnda.org/nature.