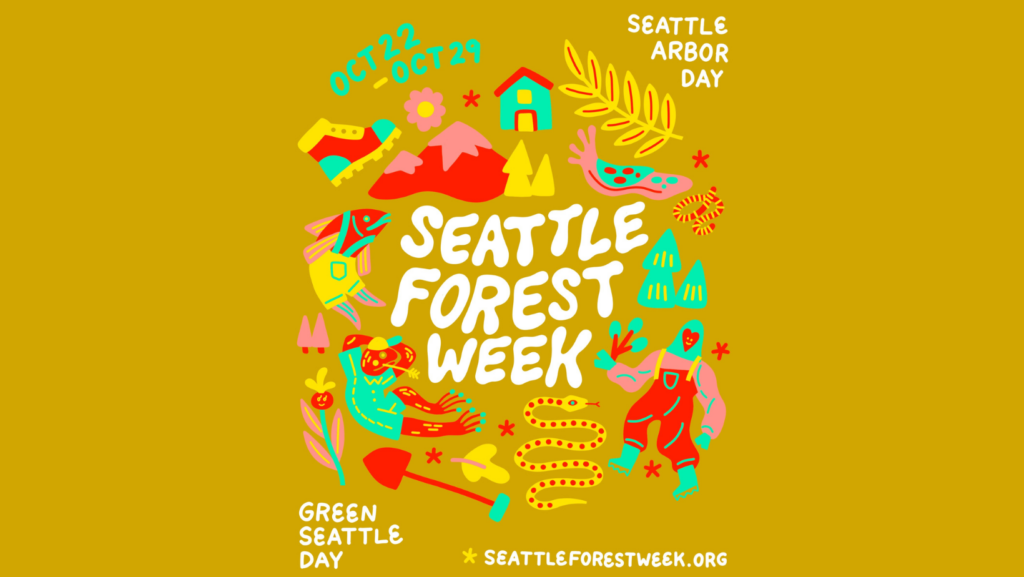 ---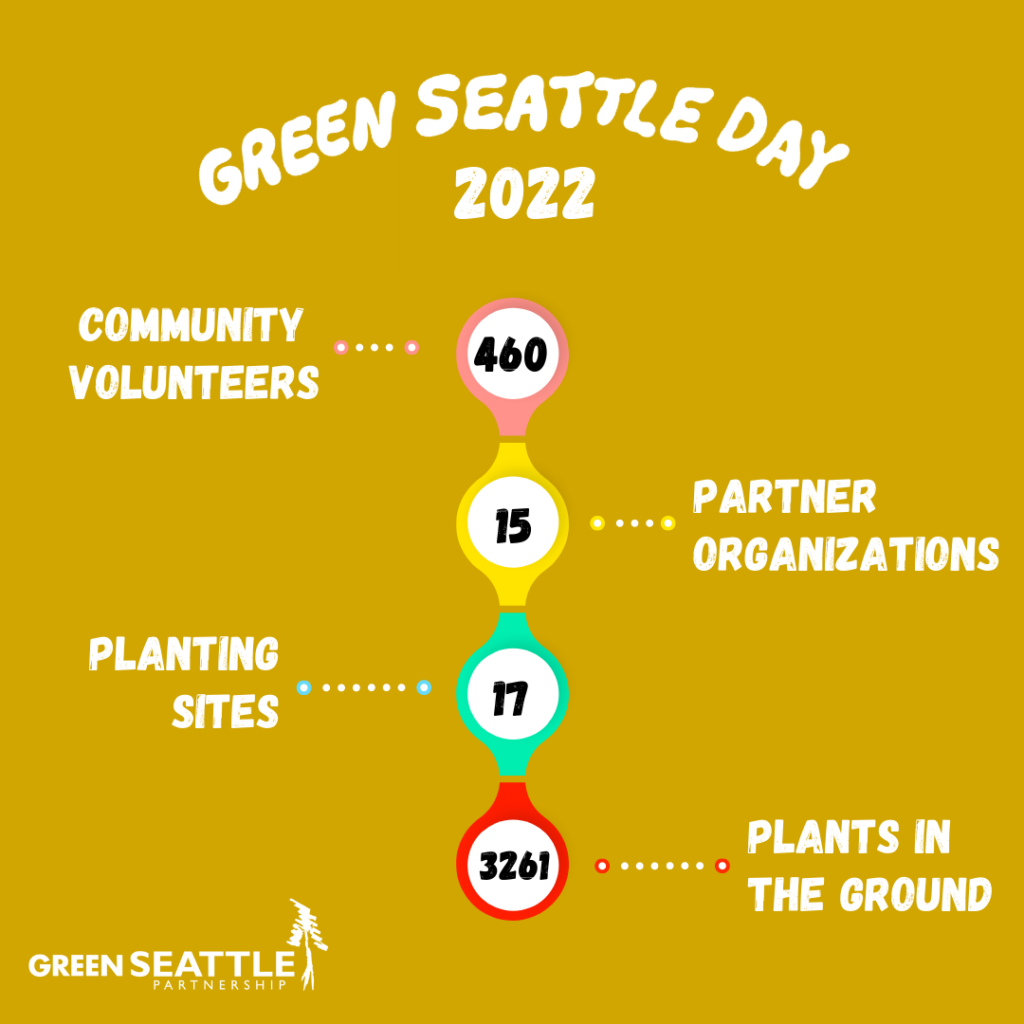 GREEN SEATTLE DAY
Seward Park with Seward Park Audubon Center
26 participants planted 200 plants: View pictures here!
Colman Park with Student Conservation Association
13 participants planted 90 plants.
---
Seattle Forest Week Events
Intertwined: Forest and Sea at Discovery Park with Sea Potential
The Intertwined: Forest and Sea walk was a beautiful space to be, to share, and to be curious! The day started off with the reflection question: What characteristics of forest or beach would you say reflects your mood today? Our community members reflections ranged from light shining through a forest canopy to the wind on the surface of the water. 
Following, participants then traveled along the shoreline through the in-between of forest and ocean to explore how the two mistakenly separate ecosystems connected with each other.
The walk lasted two hours and ended in heavy rains, but everyone enjoyed their time together, and all left with smiles on their faces
Seattle Arbor Day at Be'er Sheva Park with Trees for Seattle
The Seattle Arbor Day celebration kicked off at Be'er Sheva Park where several trees were planted and a host of GSP partners had booths and displays for community members to explore.
We were even so fortunate to have Ed Dominguez from Seward Park Audubon Center lead a walk exploring birds and their habitats in the surrounding area!
Instagram Live: Fall Crafts with Green Seattle AmeriCorps Members
Fall Crafts centered on a mindful, empowered, connected way to create with nature in your local park or own backyard!
The Green Seattle team spent the morning in one of Seattle's most iconic and majestic green spaces, Discovery Park, to invite the Green Seattle Partnership online community to get inspired and creative with the autumn foliage in their everyday.
The event streamed Live on Instagram, as natural materials were collected, and then transformed into an earth alter to symbolize our innate connection to the earth and the presence one can feel by the beauty of the natural world: View the video stream here!
Tree Walk with Mountains to Sound Greenway
Tree Tour with Freeway Park Association
The Freeway Park Association gathered 11 attendees who explored the park learning about the various trees that make up Freeway Park's natural canopy. This event elevated the awareness and importance of urban forests to the community, and the unique land use patterns that make up Freeway Park
Western Redcedar with Valerie Segrist and Seward Park Audubon Center
Our friends at Seward Park Audubon Center hosted an event at The Royal Room in Columbia City featuring Valerie Segrest of the Muckleshoot Tribe who spoke on the significance of western redcedar, and its importance to the Coast Salish peoples.
Forests in Cities: A National Perspective of the Management and Care of Urban Natural Areas
Deputy Director of Conservation Science at the Natural Areas Conservancy, Clara Pregitzer, spoke about conversation on how natural areas account for the majority of urban parkland in the U.S, but is not understood at a national scale. The New York City-based Natural Areas Conservancy that has worked with 17-U.S. cities to form the Forests in Cities Network. Seattle has been a leader in this network, contributing case studies and joining in research efforts. Participants walked away with an overview of several resources, including a newly released Urban Silviculture Guide that connects rural forest practices to urban settings.
---
THANK YOU!
On behalf of Green Seattle Partnership we would like to thank all the local nonprofits, community members, and City staff who supported Seattle Forest Week for Green Seattle Day, and special thanks go out to our event leads, volunteer photographers, staff, and everyone who joined a planting event!
We hope you can continue to work together with us to restore and grow our local urban forest and connect to nature in the city. Green Seattle Day is just the beginning of the planting season for this year. We encourage you to explore all that Seattle's forests has to offer and join another planting event! View and Register for events here!