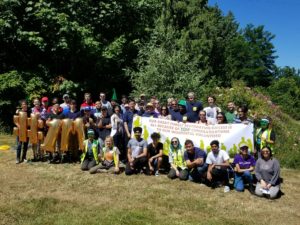 Seattle Parks and Recreation is pleased to announce the release of a Request for Proposals for 2019 Volunteer Coordination with the Green Seattle Partnership. The scope of work includes, but is not limited to, volunteer recruitment and event coordination, tracking and reporting, site visits, volunteer appreciation, community outreach and digital engagement, youth engagement, education and training, as well as curriculum development.
Please find the complete RFP package here: http://consultants.seattle.gov/2018/08/23/green-seattle-partnership-volunteer-coordination-rfp-pks-823-18/.
Below is the timeline for easy access. Please direct all questions in writing to patricia.bakker@seattle.gov.
Schedule of Events
Solicitation Release August 23, 2018 – 9:00 am
Mandatory Pre-Submittal Conference (attend at least one) Jefferson Horticulture Facility @ 1600 S. Dakota St. | Seattle, WA 98108

September 6, 2018 – 10:00 am
September 13 – 3:00 pm

Deadline for Questions September 17, 2018 – 4:00 pm
Response Deadline September 21, 2018 – 4:00 pm
Interviews October 1 and 2, 2018
Announcement of Successful Proposer(s) October 5, 2018
Anticipated Negotiation Schedule October 10, 2018
Contract Execution December 1, 2018
Thank you in advance for your interest!