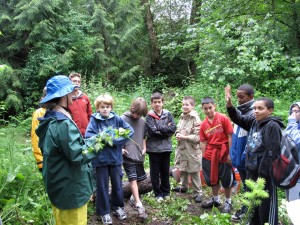 The Patsy Collins Award for Excellence in Education, Environment, and Community is distributed by the Seattle Foundation to three teachers annually "to reward teachers who embody the spirit of Patsy Collins: educators who create learning experiences that make a difference for kids, their communities, and the earth." Two of this year's winners are Christine Benita of the Hazel Wolf K-8 E-STEM School, and Marcia Ventura of Maple Elementary School. We are proud to note that, in addition to many other amazing achievements, both of them have been actively using the Urban Forestry Project: a K-12 curriculum to utilize Seattle's forested parks as outdoor classrooms.
Here's a little more about these two excellent educators who are teaching the next generation of environmental stewards:
Christine Benita, Hazel Wolf K-8 E-STEM School, Seattle, WA
Christine has been an educator and program coordinator at Hazel Wolf since the school's inception six years ago. The focus of her work is designing integrated Project Based Learning units for grades K-8 that teach environmental awareness and sustainability. Currently, she serves as the school-wide E-STEM (Environment – Science, Technology, Engineering Math) Program Coordinator, provides professional development for other staff, and develops and teaches an Environmental Studies elective for middle school students. Christine brings community partners and parents to Hazel Wolf for various events, including E-STEM Career Day; connects kids to parks both inside the classroom and through a variety of field trips – including to zoos, nature centers, wastewater treatment plants, and national parks; and serves as THE source of best-practices for incorporating E–STEM for the rest of the staff and the community.
Marcia Ventura, Maple Elementary School, Seattle, WA
At Maple Elementary School, Marcia strives to connect her fifth-grade students to their community and environment. Since the Duwamish River runs right through the neighborhood in which her students live and play, she developed a comprehensive teaching plan around the interaction between humans and the environment. Marcia connected her students to representatives from the EPA, the Duwamish River CleanUp Coalition, and Boeing. Her students wrote letters and drew pictures to present to Mayor Ed Murray, urging signage to be posted about the Duwamish. Her students were able to take a boat trip on the Duwamish to see the river first-hand. They did all of this while learning lessons in science and math. She created a classroom full of students who felt a sense of pride and ownership in their community and in their lands and waters.
Congratulations to all of this year's award winners, and thank you for your incredible service to our youth, our community, and our environment!
Are you a Seattle school teacher interested in integrating forest restoration into your classroom?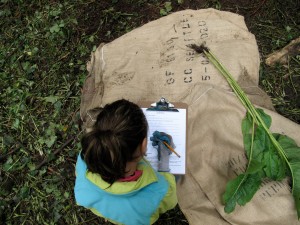 The Urban Forestry Project is one of two programs the Green Seattle Partnership offers environmental education. Outdoors, students apply concepts and theory learned at school while making a tangible and measurable impact in their neighborhood parks.
Learning through Stewardship – The Green Seattle Partnership's Urban Forestry Project is an hands-on forest stewardship-focused academic and skill development curriculum for K-12 students. It bridges the systems thinking and sense of inquiry fostered in the classroom with an opportunity for real world application in the urban forest.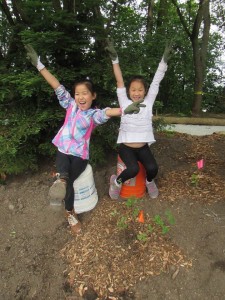 Academic Standards – In order to maximize learning benefits and school involvement, the Urban Forestry Project curriculum aligns with the Washington State Office of the Superintendent of Public Instruction's Essential Academic Learning Requirements and the Grade Level Expectations used in Seattle Public Schools.
Professional Development – Educators who participate in the Urban Forest Project will be trained in field and classroom curriculum that will guide students' forest restoration activities park near their school.
Click here for more information, links to curriculum, and to contact Urban Forestry Project staff.
Forestry U is our other environmental education resource, offering youth, youth workers and educators premium access to an unforgettable learning experience through hands-on activities designed to teach about urban forests. More than a field trip to the park, this is a great opportunity to help youth make a lasting connection to nature. Easy-to-use activities will help you guide youth through a fun and educational exploration of natural spaces in their neighborhood.
Request a free Forestry U demo and trip planning consultation.