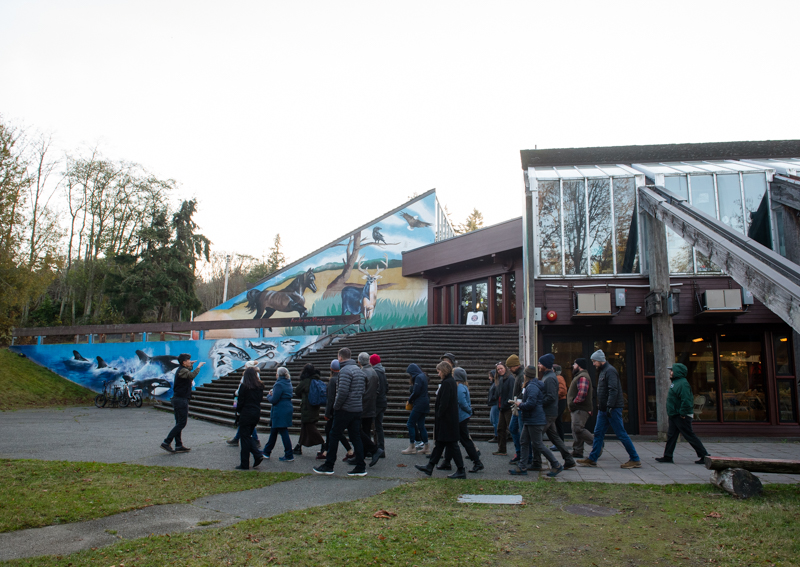 This month, GSP blog is highlighting the work of one of our partners, Futures Rising: Restoration & Co-Creation. Learn more about Futures Rising's important work with the environment and BIPOC communities.
Futures Rising: Restoration & Co-creation is comprised of Shameka L. Gagnier, a non-tribal descendant of peoples from North (the Carolinas), Central (Michoacán, Mexico), and South (Ecuador and Colombia) Turtle Island, Africa, and Europe. It is through this confluence that they move to co-create spaces and possibilities to provide care for Mother Earth and our communities. Futures Rising has been working in collaboration and partnership with Na'ah Illahee Fund (NIF), United Indians of All Tribes, Native Voices, and Green Seattle Partnership (GSP) since 2019. The work centers connecting plant communities to their usual and accustomed territories, coordinating or working with BIPOC youth job training education cohorts and events, leading place-making and restoration events, writing curriculum, and teaching project-based arts integrative education.
The long-term goal of their work is the commitment of land rematriation for the purpose of tending and contributing to plant diversity, guided by the wisdom and hands of community.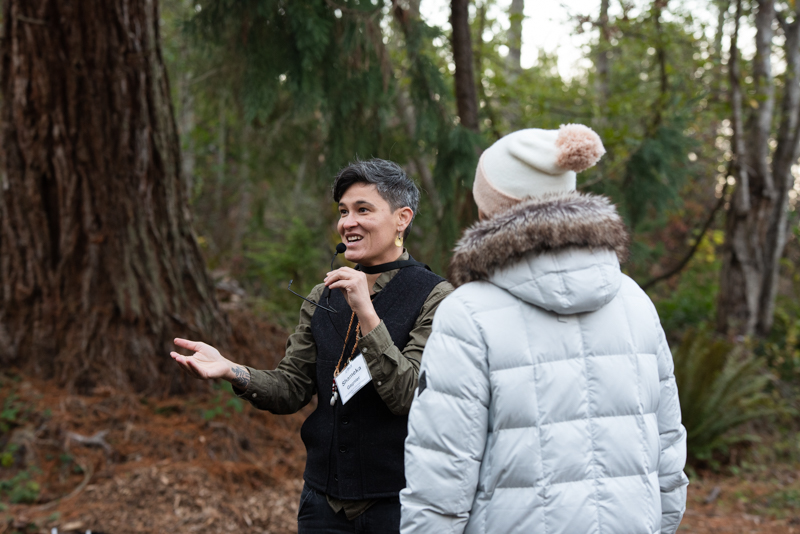 What a wild ride! Just as Saint Octavia Butler once said, "Everything that touches you, changes you." I am just praying that the things I touch, I can give a deep presence and love in that change and exchange. The work that is centered in Futures Rising is nothing new and is informed by all the people (both humans and more than humans) that have held, nourished, challenged movements, history, layers of time held in the Earth and her brilliant memory, and in community. Community, people, the list is long… extends out to people I have never met such as Octavia Butler, Bell Hooks, Paulo Freire, Bernie Whitebear, Billy Frank Jr., Resmaa Menakem, Tyson Yunkaporta, Adrienne Maree Brown, Walidah Imarsha, Alok Vaid-Menon. People who have taught me and continue in my life: The Leadership of The Native Voices Team, Indigenous Advisory Committee, Green Seattle Partnership, People doing land work up and down I-5 in Indigenous and Black Food Sovereignty Movements, Creatives, Movers, and Shakers.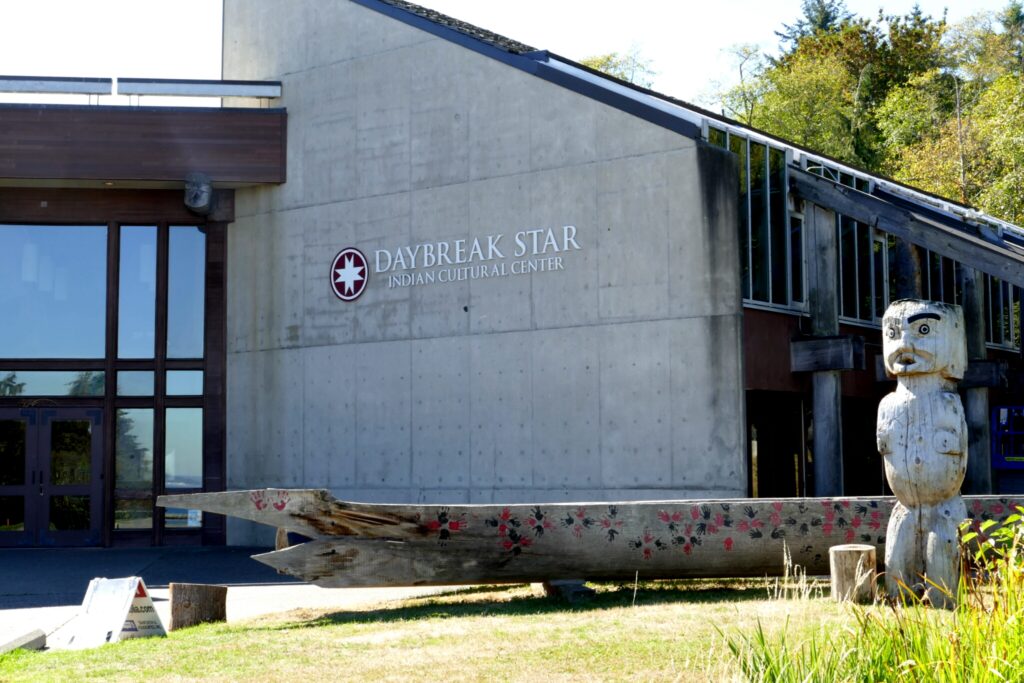 This work started in 2019, through work in partnership with Na'ah Illahee Fund led by Erika Warren (Quinault Nation) funded by a King County Conservation District grant to do some Food Sovereignty work at Daybreak Star. Quickly we needed to shift gears due to the original plan not aligning with the needs of the community. Abe Johnny (Cowichan First Nations), who has been caring for the land and community at Daybreak Start for over 30 years pulled together an advisory team to inform the work. The project ended up being more construction and storm water solutions heavy. I pivoted and was able to hire two friends (Kemo and Johnny) with more skill than myself and we co-designed, implemented, and added to the infrastructure for the Community Lodge space. It was through this work that Erika Warren developed a relationship with Green Seattle Partnership and started the Indigenous Youth Trails Cohort.
I was asked to lead restoration and youth education around the Serpentine Mound. We worked with Abe Johnny, Christie, folks from GSP, NIF, Tim Lehman (Northen Arapaho and Landscape Architect) to come up with a plan. With lots of support from GSP's Natural Areas Crew, Trail and Tree Crew, 6 Indigenous Youth Cohorts, Hundreds of Community Volunteers, Shanoa Pinkham's (Yakama and Eastern Shoshone) leadership through Na'ah Illahee, The Indigenous Council, Plant Teachers (Winter Strong – Skokomish),and Daybreak Star's Preschool Team and students we have planted over 9,000 plant relatives on the land surrounding Daybreak Star Cultural Center.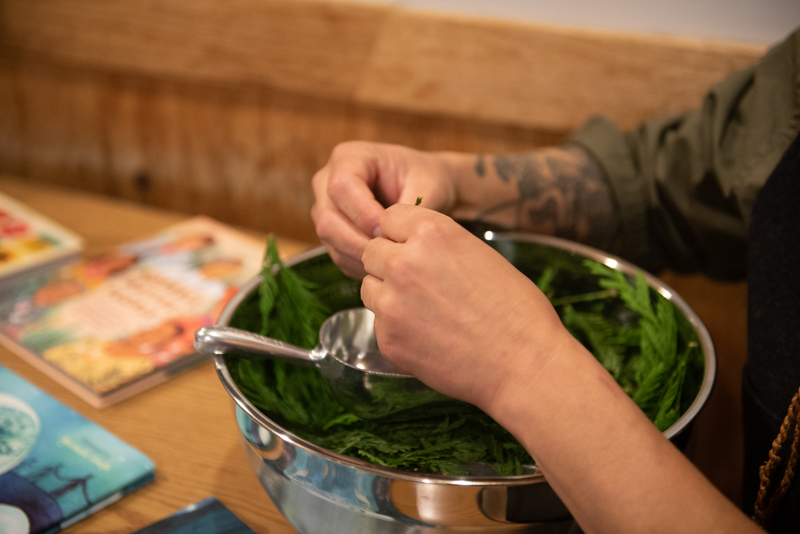 This work has been powerful and moved in many directions from holding space for cultural teachings for community, Food Sovereignty, the development of an early learning land-based curriculum, tending, gathering, and teaching spaces. Much of the work is to bring the people and the plants back to the land. So much of the land in Seattle – as with so many cities that have been cleared – had rivers straightened or put underground, and areas polluted. Many of the plant relatives can't thrive in their usual and accustomed territories. We are learning how to rebuild the soil (partnership and the generosity of Bastyr University for allowing us to learn in their learning communities) so that these plants can come back. We are learning from the wisdom of the people who have been caring for the land around Daybreak Star and the vision of those ancestors that left literal blueprints of their dreams. There have been so many hands that have tended and nourished the land, so much transformation that has happened. The land is literally on an old military base. Looking throughout history and the role of the military in the Indian Removal Act, Indian Reorganizational Act, and so many laws and policies. The actual site of the armory was transformant into the Serpentine Mound. Her body is running along three ponds that feed into the site where the armory once stood. When we look at transformation and revisioning a future, this is a living example!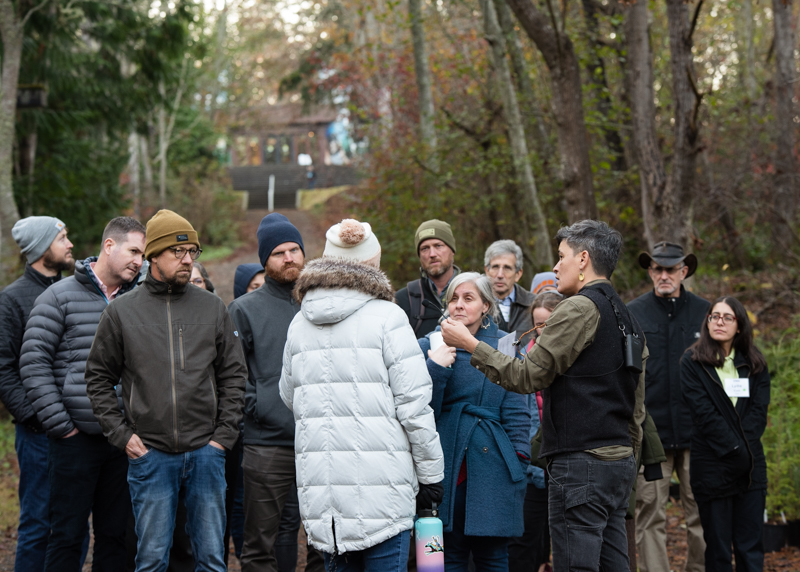 Last year we started visioning how to create hubs and more access to BIPOC Community in urban forests, to foods and medicines. Out of these conversations I am starting to work at four additional strategic locations: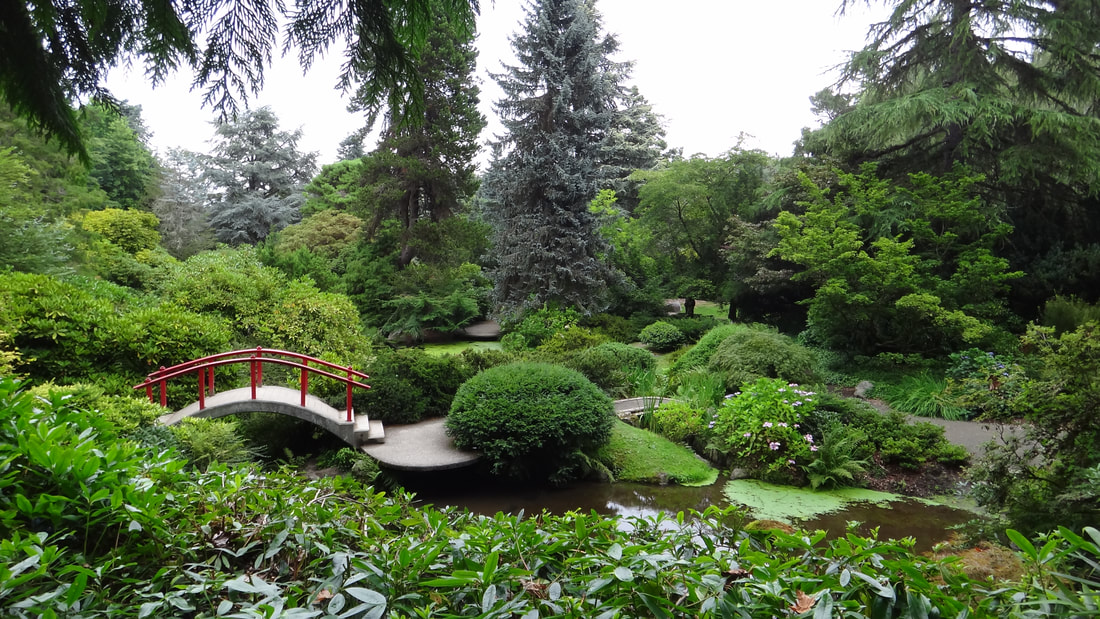 The Kubota Gardens
There is land adjacent to the Yehaw Indigenous Arts Collective Land. I am trying to extend access around this land and fill the space with plants who hold medicines, weaving materials, dye abilities, and also will restore the ecosystem.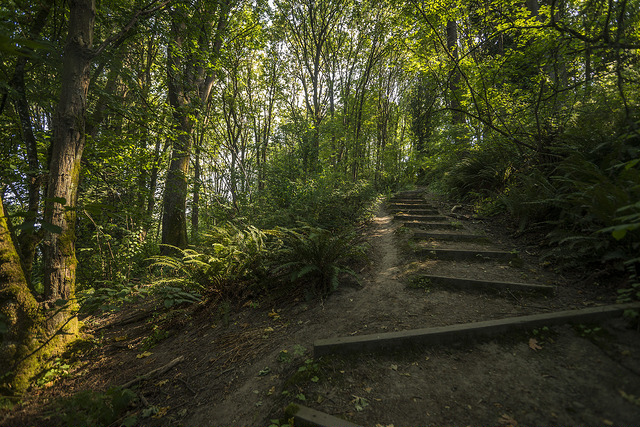 Frink Park
This space is in relationship with the water and holds traditional trade and food ways. This space is in proximity to BIPOC Cultural and Community Spaces. This space holds much care and biodiversity within the space.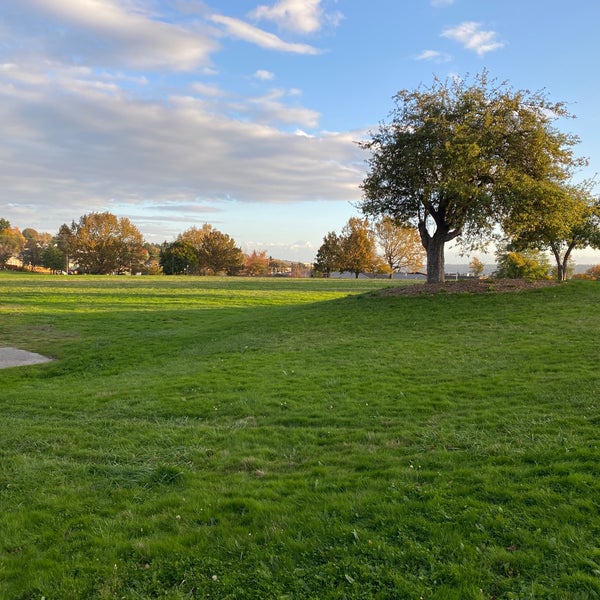 Maple Wood Playfield
This park holds water, community, hidden immersive play and learning spaces. This space is in proximity to BIPOC Cultural and Community Spaces.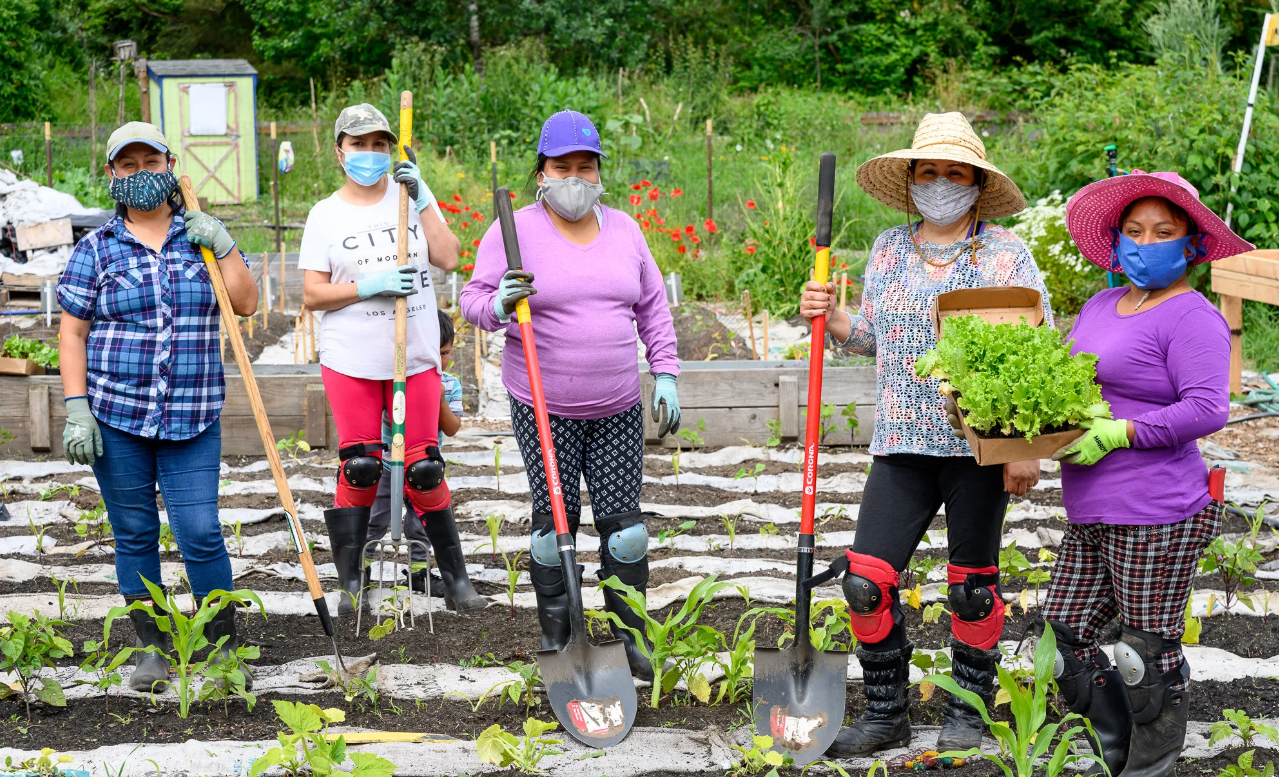 Marra Farm – Hamm Creek
This space is in proximity to BIPOC Cultural and Community Food Sovereignty Space. This creek holds so much history and the tending of generations. This space currently holds community learning, tending, and nourishing.
As you can see, we have been strategic about the spaces, and we are hoping to partner with different community educators, artists, food people, and restorationists to co-create more possibilities for the plants, the land, and people to thrive.