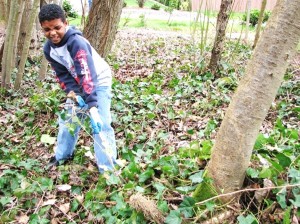 Bringing students into one of Seattle's greenspaces allows students and educators to enter the ultimate outdoor classroom. It seems journal articles and newspaper/radio reports roll out weekly about the developmental and leardership-building benefits of getting kids (actually everyone) outdoors. We are pleased to play a part in making the forest an accessible place to steward, play and learn. Here are some highlights:
GSP Education Connection: January 2014 to May 2015, GSP staff, partners and forest stewards worked with 35 Seattle schools (public and private)
Impact on the Parks: Those 35 Seattle schools worked in 31 parks, and students contributed 11,009 hours of removing weeds, planting and maintaining the healthy forest (accounts for approximately 15% of volunteer hours last year).
Good for Them, Good for Us: In 2014,GSP helped sponsor 56 public education events/trainings for students as well as continuing education for adults
Training Calendar: The 2015 calendar already includes 37 GSP-supported public education events and volunteer trainings that take place citywide, with more being added throughout the year.
#ForestEd Spotlight
The GSP K-12 Urban Forestry Project (UFP) is more than a field trip to the park; it is a great opportunity to make a connection between academic learning and real world application. The UFP is flexible, based on school demands and ties hands-on projects in the parks to learning standards. Teachers may use it to support STEM-based projects, history or social studies, science teams, and more. Educators who participate in the Urban Forest Project will be trained on the comprehensive field and classroom-based curriculum which leads to the restoration of a local park near their school.
Below you will see Urban Forestry Project achievements for the 2014-2015 school year. It also provides some additional impact data from teacher satisfaction surveys and student tests before and after participating.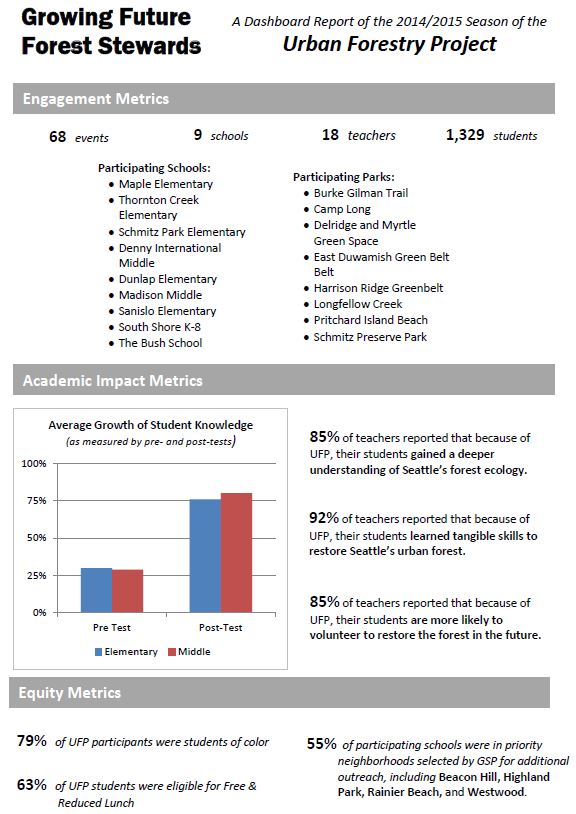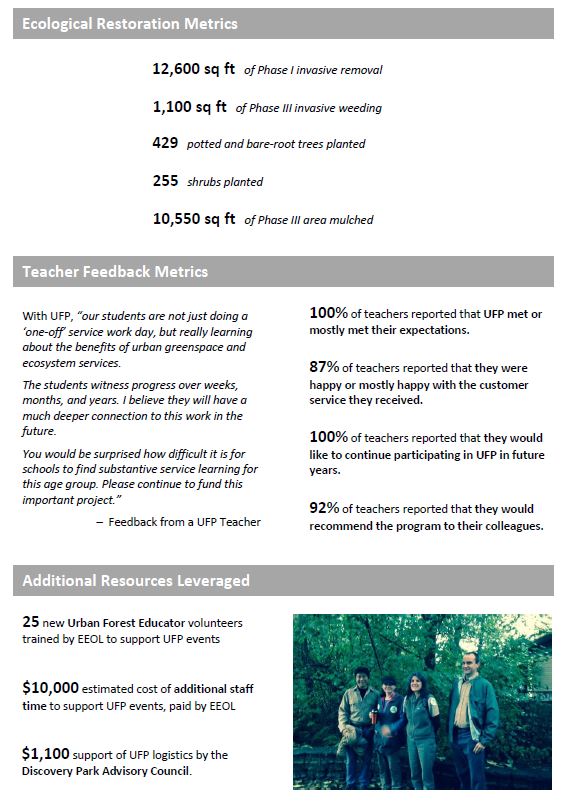 Follow this link to learn more about the GSP K-12 Urban Forestry Project. Scroll down and click on the grade level of interest. At the bottom of the page is the CURRICULUM DOWNLOADS. They are a pretty awesome resource for teachers and Forest Stewards alike. If you are already connected with a local school (or want to be), please share this resource with teachers and principals. You can also use it independently as a way to mix in other activities with forest restoration at your park too!
The GSP education effort builds community through people, parks and programs. We learn skills from each other, experience the parks together, and build a deeper appreciation for the magic we find in the forest.
For more information about the GSP Education & Training Program, contact Michael Yadrick, Seattle Parks and Recreation Plant Ecologist at michael.yadrick@seattle.gov.