In 2015 REI closed their doors on Black Friday for the first time to launch their #OptOutside campaign. This year they're doing more by encouraging community members to take action and #OptToAct!⁠ Now its time to plan for the next 52 weeks of action. We've got a couple ways for you to Opt To Act over the next year. By making a donation of time or money to the Green Seattle Partnership, or any of our supporting partners, you are helping to fund a legacy of healthy forests here in the Emerald City. These forests will provide innumerable ecosystem services to our communities, including: improved water and air quality, reduced stormwater runoff and flooding, wildlife habitat, and improved public health. 
Option 1: Donate Money
You can donate to the Green Seattle Partnership two different ways. First, through the Seattle Parks Foundation. Click any of the links below to donate to each Seattle Parks Foundation Project.
Second, by supporting our Partners. Click any of the links below to support one of the Green Seattle Partnership Partners. 
Option 2: Donate Time
Don't have any cash burning a hole in your pocket? Not a problem. By giving your time you'll be making a meaningful donation. In 2018, volunteers donated over 2.35 million dollars worth of time to the Green Seattle Partnership. There are two different ways you can volunteer with us.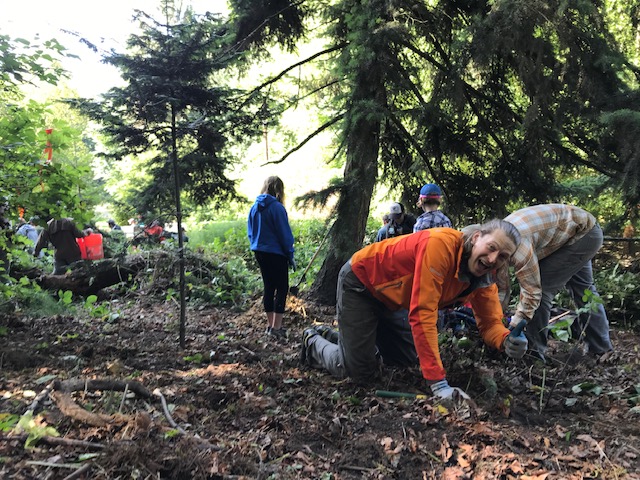 Volunteer at Golden Gardens Park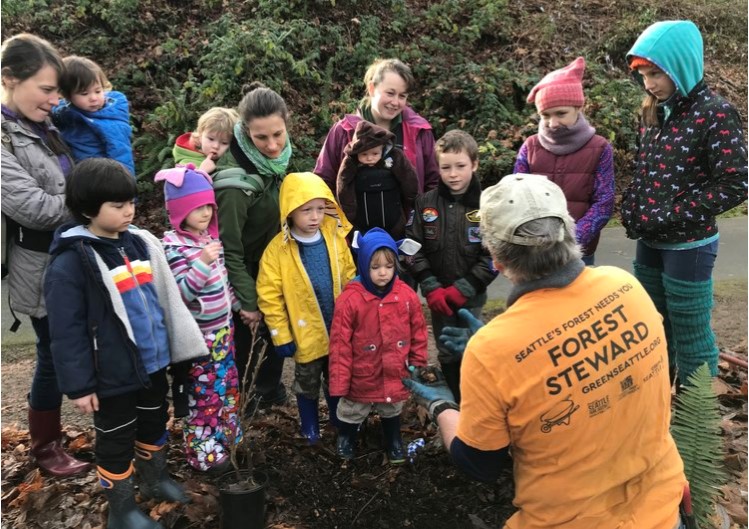 Forest Steward, Dean Drugge, leading volunteers
Second, become a Forest Steward. 
Ready to take your volunteering to the next level? Consider becoming a Forest Steward with the Green Seattle Partnership. This is a volunteer position for community members who want to take ownership of a portion of restoration. To become a Forest Steward you'll need to take the following steps.
Review the Position Description to see if this is something you'll be able to commit to.
Email Eric Sterner (Eric.Sterner2@seattle.gov) and Maya Klem (mklem@forterra.org) to voice your interest and ask any questions you may have. 
Attend a Forest Steward Training. This 2 day training is held annually in the Fall. When you email Eric and Maya, you will be placed on the list to attend the next training.
However you choose to give to the Green Seattle Partnership, we are sincerely grateful! Here's to healthy forests now and into the future.