Irene Morales is a naturalist with the Seward Park Audubon Center and a Forest Steward at Seward Park. Since 2019, she has been engaging the community in restoration work at this beautiful park. We interviewed her to learn more about her work!  
We met Irene at the north end of Seward Park, and she asked us to share this: We meet on the ancestral unceded lands of the Duwamish Tribe. Each day, we work, live, and recreate on this sacred land. As we move through the day, reflect on how you might best serve and build community with the Duwamish. How do your actions help to heal these strained relationships with one another and how can we do better? 
Irene showed us around a meadow that she's working on restoring. "We're trying to restore this meadow into habitat for birds," she explained. "I always say, 'bird health is human health;' the more we can keep our birds healthy, the better off we'll all be." Throughout our conversation, Irene stops to point out the bird species who make their homes in Seward Park—eagles, woodpeckers, hummingbirds, a sharp-shinned hawk, a brown creeper, and more.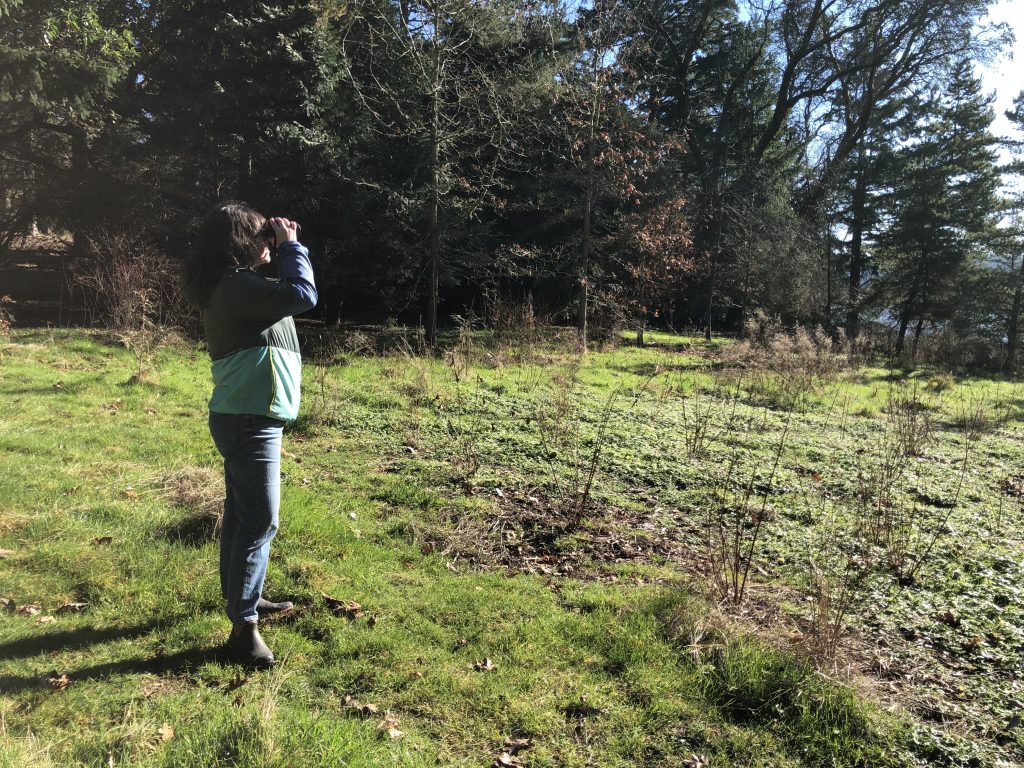 What initially sparked your passion for restoration?
I did my associate's at Seattle Central, and I took some urban food classes. I was interested in building rooftop gardens, but wasn't so interested in urban planning. That led me to an environmental program, which is how I ended up studying ecology at Western.
What motivated you to volunteer with GSP, and how did you end up working at Seward Park?
I was home from Western, and Green Seattle Day was coming up. I heard about an event at Seward Park and decided to go volunteer. I met Ed, who was hosting the event and works with Seattle Audubon. I got addicted after that event and started coming to more Green Seattle events. I started to notice that a lot of the GSP volunteers tended to be older white folks, and I was kind of wondering where my people were! Students at Western were doing similar work at the farm on campus, so I knew younger demographics were interested, and not just the folks who have extra time on their hands. So I've been interested in trying to create more representation.
What got you into birding?
Coming to these events. Ed, the lead naturalist at Seward Park Audubon, is a wealth of knowledge; I love geeking out with him. I started coming to events as a participant, and then wanted to find ways to help with the events. So Ed took me under his wing (no pun intended).
Photo of a Steller's jay by Irene.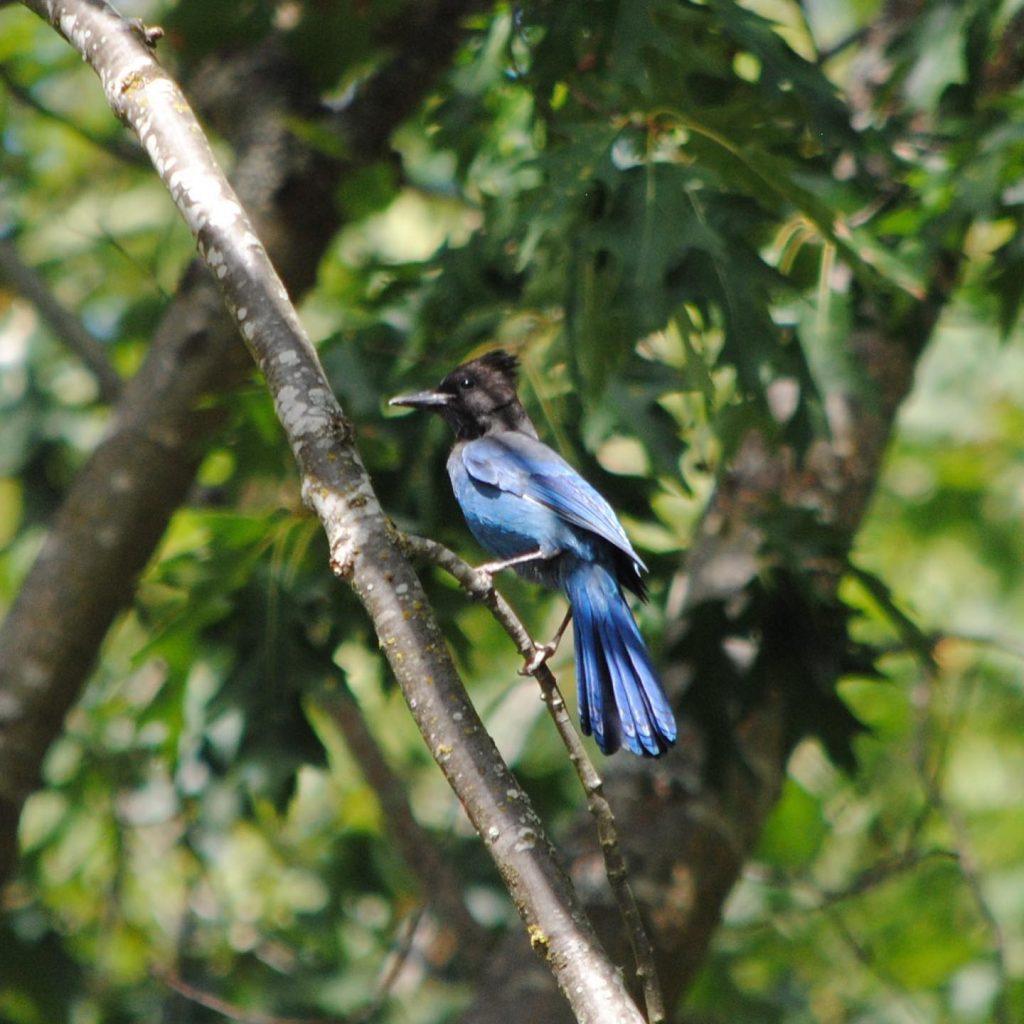 What's most rewarding about being a Forest Steward?
Working with volunteers who are excited about the park and really want to know more is probably the most rewarding thing. I also love working with the other stewards. At Green Seattle Day, we had a Forest Steward event, and it was so fun to work at each other's sites.
What's a favorite memory of volunteering with the Green Seattle Partnership?
It actually has to do with that Forest Steward event! At the beginning of the pandemic, a volunteer came to one of my events, and he was super interested. He asked about the details of the program, so I gave him a bunch of resources. Then I saw him at that Green Seattle Day Forest Steward event! He had become a steward and finished orientation in the fall of 2021. It was so great to see the impact that my event had.
What's your favorite native plant?
Well, this isn't really a plant, but I really love nurse logs. There's so much going on there, they're just so cool. If we're talking about an actual plant, I love thimbleberry, because it's delicious and has such soft leaves.
How does your work with Seward Park Audubon connect to the Green Seattle Partnership?
I work part-time as a naturalist with Seward Park Audubon, and the work is very connected. For a lot of events, I have to choose which hat to wear—whether I'm doing this for GSP or Audubon. The folks at Audubon have been very supportive, and they were my gateway to beginning this work.
What do you look forward to about the future of your site and the Green Seattle Partnership?
Definitely building opportunities to create a more diverse group of volunteers. I've been talking about this with Audubon and Green Seattle—asking questions like, how can we inspire people to come out here? How do we make our program accessible to people who can't volunteer? How do we make this a mutually beneficial experience, instead of just asking people to come work for us? How do I make folks feel welcome here? This is their park, but for so long, it hasn't felt that way. At one point in time, this is where longhouses were; this is Duwamish and Coast Salish land. But I don't see Indigenous folks gathering here. I think that's something that the City of Seattle, Parks, and Audubon could work on—trying to restore that connection and relationship.
I am seeing a shift in who's coming out, though. I think people are feeling more activated and empowered. Clearly, a lot of people love this place. They really do care and want to see it taken care of. I'm trying to continue that shift at my site.
When you're not helping restore Seward Park, what are you up to?
Obviously, I'm into birding. I also love photography, so I'm doing a lot of bird photography any chance I get. I've also started camping recently.
Thank you to Irene and everyone else who has helped steward natural spaces and build community at Seward Park. You can stay up to date with everything that's happening at Seward Park here: https://seattle.greencitypartnerships.org/event/calendar/?park=seward-park