See a notable Pacific madrone while cruising through your neighborhood? Know about a cool tree in your favorite park? Maybe you can be our "eyes-in-the-field" as you sit in the backyard shade of your Arbutus menziesii. Now anyone can "tag" these trees using TreeSnap. All you need is to download the free app on your mobile device and a basic knowledge of how to identify Pacific madrone.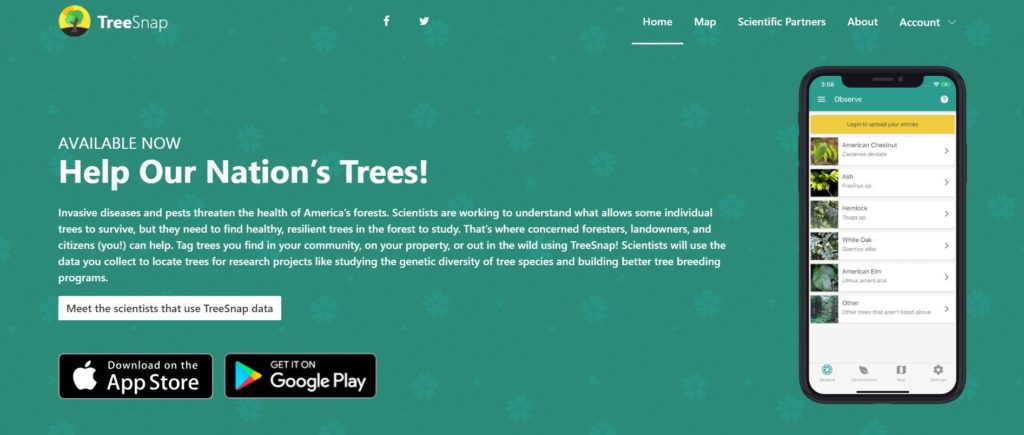 Decentralizing a tree survey like this empowers people to contribute data with the intent of understanding how this species is tolerating myriad diseases and to identify healthy tree populations. Surveyors using the app pinpoint tree location and health on the map, so data from British Columbia to the Sierra Nevada could ultimately help inform us about the true range of the species along our shared Western Coast.
TreeSnap
TreeSnap got its start in 2017, funded in part by the National Science Foundation Plant Genome Research Program. Data collected can be applied to real research; partners have already been using this app to track Midwest tree diseases and pests, like dutch elm disease and emerald ash borer. And Pacific madrone is the first West Coast tree on the app…PNW represent!  Using this tool could even spur some madrone love connections. As an example, you could tag a robust, healthy madrone in a public greenspace. Let's say its loaded with an abundance of red berries – functionality within the app could then allow us to find these healthy trees and collect the berries to later use the seed to propagate new baby seedlings for GSP restorations. Power to the Partnership!
"We are excited to have our first native tree from the western part of the United States included in TreeSnap, making this a truly national effort. With so many new species and passionate conservation groups, we enjoy watching the leaderboard on the home page, where everyone can see who is reporting the most trees. This competition aspect really helps to motivate people to get out in nature and see the trees around them." – Meg Staton, TreeSnap
Here is how it works:
You walk through your neighborhood and park and spot a madrone. Bingo.
Open the app and snap a photo. Location services on your phone pinpoints the location of the tree. The approximate spot will later show up on the TreeSnap global map, but the exact location is kept secret.
Answer a couple questions about the height and diameter of the tree
Do you find this tree standing alone by itself or in a forest? Answer a question about that.
Give your opinion about the health of the tree's canopy
Note any disease symptoms on the leaves, branches and trunk(s)
Leave a few comments if you wish. Boom, done in less than five minutes.
All Access
If mobile surveys aren't your thing, webform and paper forms are available on the Washington State University Extension website. Also available at this website is a downloadable assessment guidebook to help hold our hands through submitting our first data report.
Madrone Recovery Project
Using this technology to survey and map madrone is one conservation outcome of the Madrone Recovery Project, supporting our partnership with Washington State University Extension Plant Pathology Program. It was a bright idea arising from attendees at the April 2016 Future of Madrone Symposium. Next, we are working on developing an e-newsletter to celebrate all-things Pacific madrone while also highlighting our efforts and connecting madrone researchers and enthusiasts along the way.