This restoration of the shoreline helps Seattle Parks and Recreation meet commitments to advance their vision of Healthy People, Thriving Environment, and Vibrant Community. As the stewards of open spaces, shorelines, and healthy urban forests, the Seattle Parks and Recreation shoreline restoration project will help to slow stormwater, stabilize banks against storm surges and provide clean air and water by restoring diversity of vegetation. This also supports species such as salmon, pollinators and migrating birds while preserving people's access to and a sense of safety around the water.
The goals of the project are:
Preserve and enhance healthy landscape and shoreline from Colman Beach to Seward Park, while enhancing local character. The project will restore native forests, drifts or patches of native vegetation to assist natural processes by using a diversity of species and types of plants.
Promote neighborhood and community stewardship, volunteer opportunities and engagement in planning for, planting, and caring for the lakeside.
Ensure safety by maintaining safe water access and maintenance of vegetation overgrowth. The project will balance access and safety with conservation of soil and water quality. *
Protect and enhance wildlife habitat (e.g., Lakewood Wildlife Sanctuary near Lakewood Marina.)
Foreground the area's great abundance and variety of water, wooded hills, and distant mountains scenery with shoreline plantings. The project will frame views from within the Park property to mountains and the water in designated areas, particularly where benches and picnic tables are present as well as official viewpoints and public view such as the southern end of Andrews Bay and Seward Park beach.
Future phases of restoration will restore and conserve a backdrop of native trees and healthy understory on the western (steep) slope of the Boulevard.
*Soft shoreline techniques can incorporate natural materials can assist natural processes. This includes planting native, deep-rooting and sun-loving plants and trees. Where planting is not sufficient to stop erosion, a bioengineering approach may be more appropriate. This includes a combination with natural materials such as logs, live stakes (e.g., cuttings from species like dogwood and willow), and brush bundles (i.e., branches from live woody plants), creating a natural appearance and habitat for fish and wildlife that also helps to hold soils and absorb wave energy.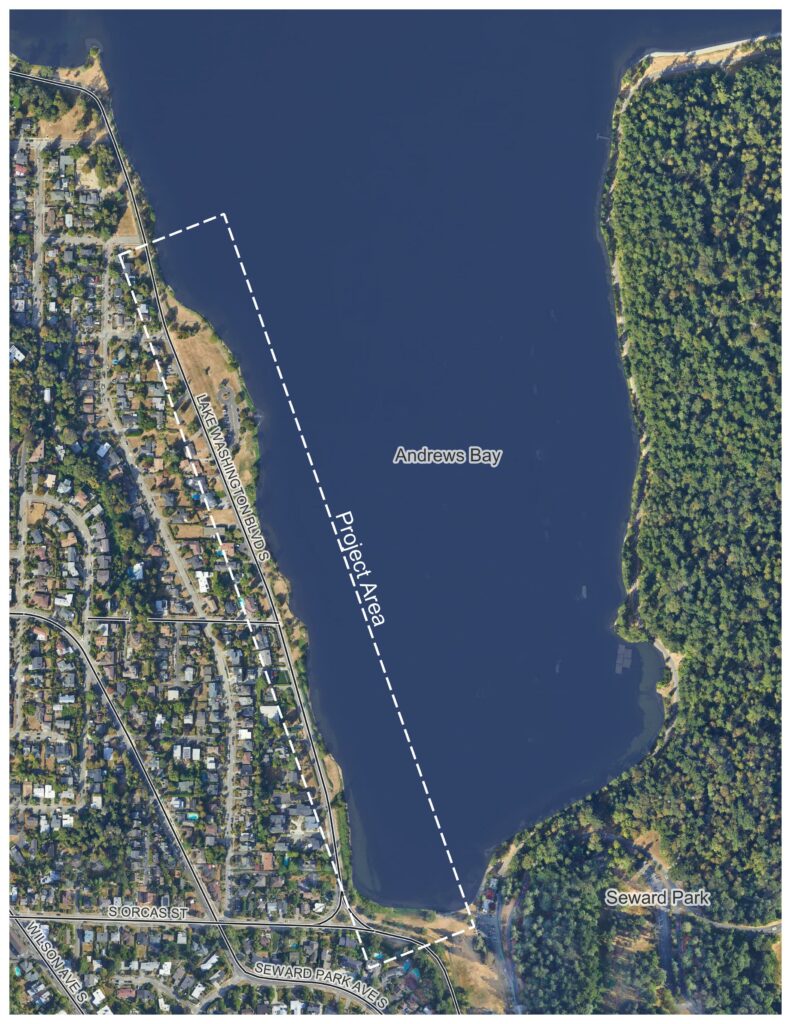 A healthy vegetated shoreline cleans the air and protects the soil and serves as a sanctuary for people and wildlife. This promotes a diverse marine environment that contributes to the health of people and more-than-human communities that rely on Lake Washington and Puget Sound ecosystems.
Learn more about the larger effort by visiting the Lake Washington Boulevard Renovations Project homepage.