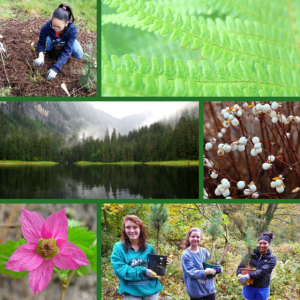 Why do native plants make our hearts skip a beat? So many reasons, we're taking a whole week to tell you about it. Stick with us on the blog this week, as Forterra's Stewardship staff pens a love letter to the plants that help us do our best work.
To understand the importance of native plants, imagine you go to the supermarket one day, planning to buy all of your basic food and household essentials, but when you walk in all they have is turnips. And you don't even really like turnips. And then you go in another week and there's nothing at all.
That's what it's like for native wildlife when invasive plants take over a landscape, pushing out the wide array of native plants that called it home: plants that flower and fruit at different times of the year, produce food that can be stored, and even provide shelter. Invasive plants grow so aggressively that eventually, they're the only thing around. Some wildlife might manage eating invasive blackberries or nesting in ivy, but those plants may only be available for part of the year, and many species may not be able to get by at all.
But wildlife is only one part of it. The key is variety. Our native plants evolved together over hundreds and thousands of years, and they've adapted to co-exist so that no single one dominates. Instead they make a beautiful patchwork quilt of trees, shrubs, and smaller plants, each contributing its own bounty to the landscape. Some are great at feeding wildlife, others clean our waterways, keep steep slopes or sand dunes from falling apart, or capture carbon in the atmosphere. Best of all, they can thrive here without needing to be watered or fertilized—they've already been doing so for millennia. All of these awesome qualities allow native plants to blanket our wild places and urban jungles with the wide variety of life that is necessary for a healthy and sustainable environment.
Native plants are also a living part of the history of the Northwest. First Nations people depended on the plants that have grown here throughout their history, and their traditional uses reflect a deep knowledge of the natural history of the land and its plants, called ethnobotany. Learning about it is a fascinating way to understand native plants while connecting to the history of this place at the same time.
Throughout the rest of this week, we'll be focusing on different fun and interesting aspects of native plants each day. Stay tuned and let us know what you think! We hope it inspires you to dig in with us at a volunteer project or plant some native plants in your own yard.
So far in the native plant blog series:
* The radiant red-flowering currant
* Ode to the western hemlock
* Small, green superheros for salmon
* "Lakes" of blue camas
Check back tomorrow for the next post!