The Intersection of Redlining and Parks
Back during Black History Month, we ran a piece that highlighted and celebrated our Seattle Parks that are dedicated to Black visionaries. As people across the country are moving to educate themselves more on issues of white privilege, police brutality, and racism, we wanted to expand upon our last article. Let's take a closer look at the parks we mentioned before. 
The map to the right shows all of the Seattle parks dedicated to Black leaders, activists, and visionaries. 10 of these 13 parks are located in and around the Central District neighborhood, which is where Black residents were largely limited to until the late 1960s. Up until this point, a mixture of racial restrictive covenants and the actions of white organizers kept Seattle segregated. It wasn't until the Fair Housing Act of 1968 (passed in the U.S. Congress) that this type of discriminatory exclusion based on race was outlawed. Remember, a person born in 1968 would be 52 today, which tells you that this was not very long ago.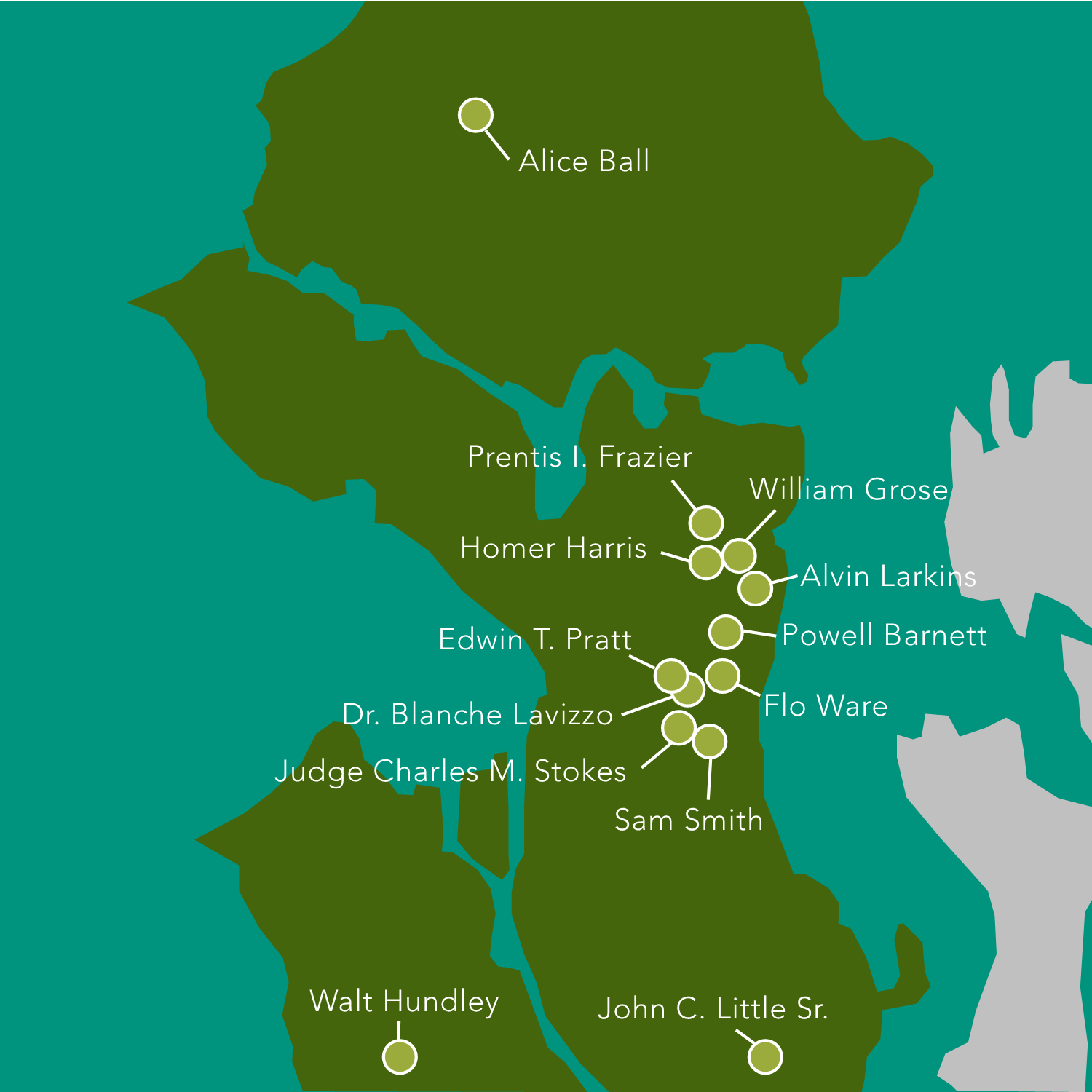 This second image shows the percentage of Black community members in Seattle's census tracts in 2010. All of the parks, except for one, are located in the historically black neighborhoods of Seattle during the era of segregation. The exception is Alice Ball Park, which officially opened in 2019, almost exactly one year ago. In the 50+ year since the Fair Housing Act was passed and Black community members were given more freedom to move, only 1 park outside of the historical area has been named after a Black person. This speaks to how deeply entrenched the legacies of segregation and racism are.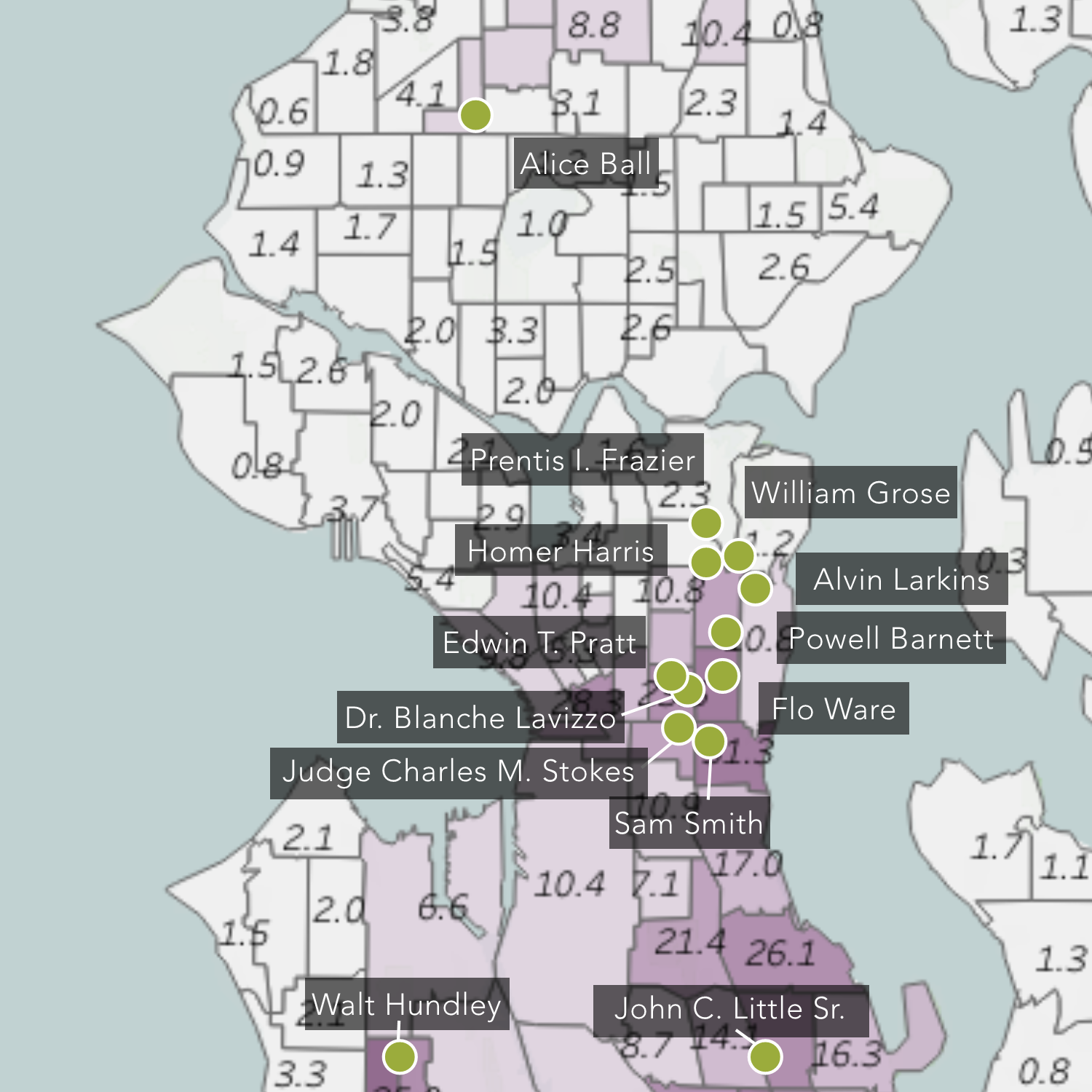 As we continue to educate ourselves we should remind ourselves that racism casts a long shadow, one that embodies itself in the very spaces we inhabit. We should be vigilant for the ways we may be perpetuating redlining and segregation in the present. We also need to look for more opportunities to celebrate Black lives in lasting and meaningful ways. There have always been efforts to protect and foster Black community, like the one that is currently happening in the rapidly gentrifying Central District. Continue to challenge your understanding of equity, seek out and support anti-racist initiatives, and listen to Black leaders and Black voices in the push for real change in our communities.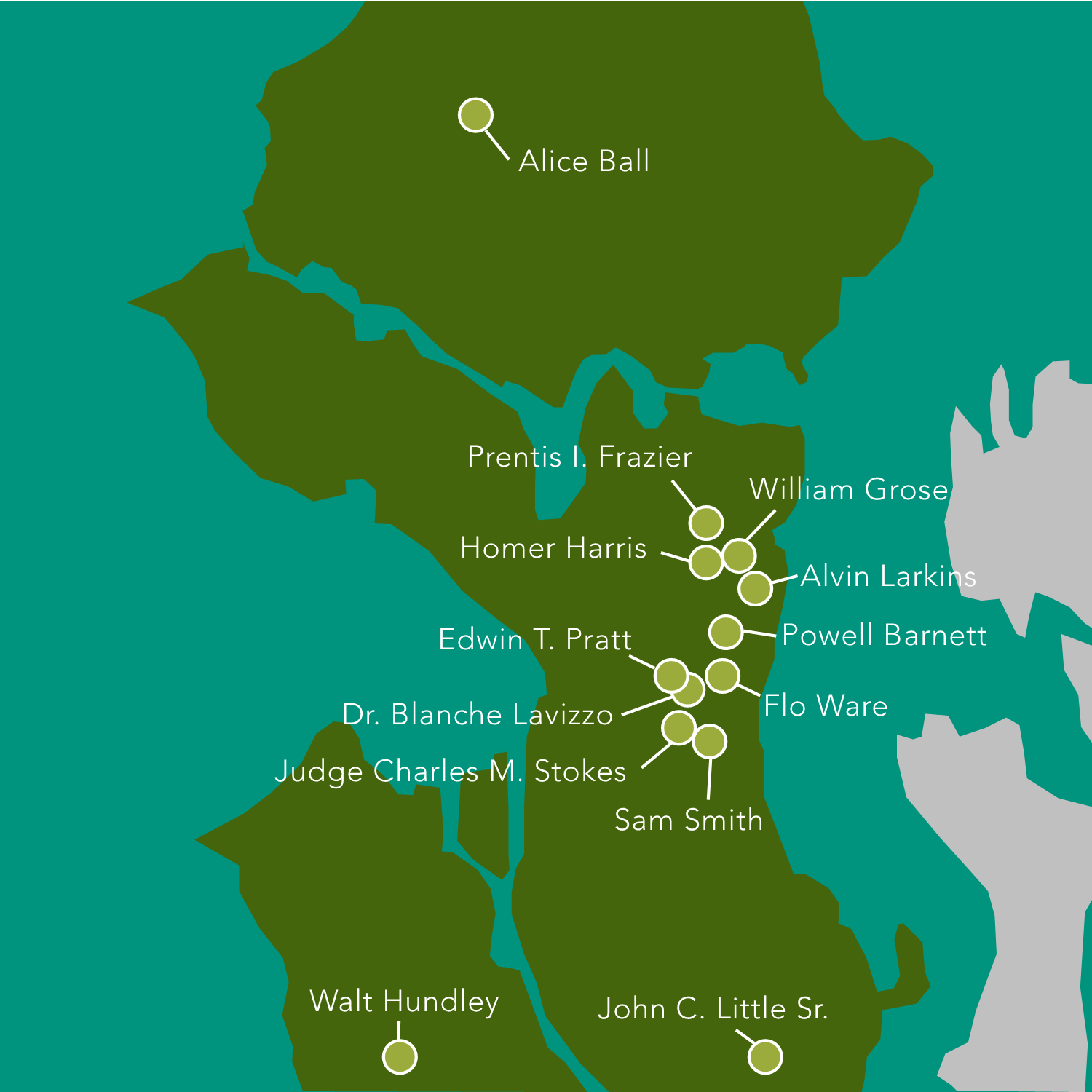 Seattle Parks named after Black visionaries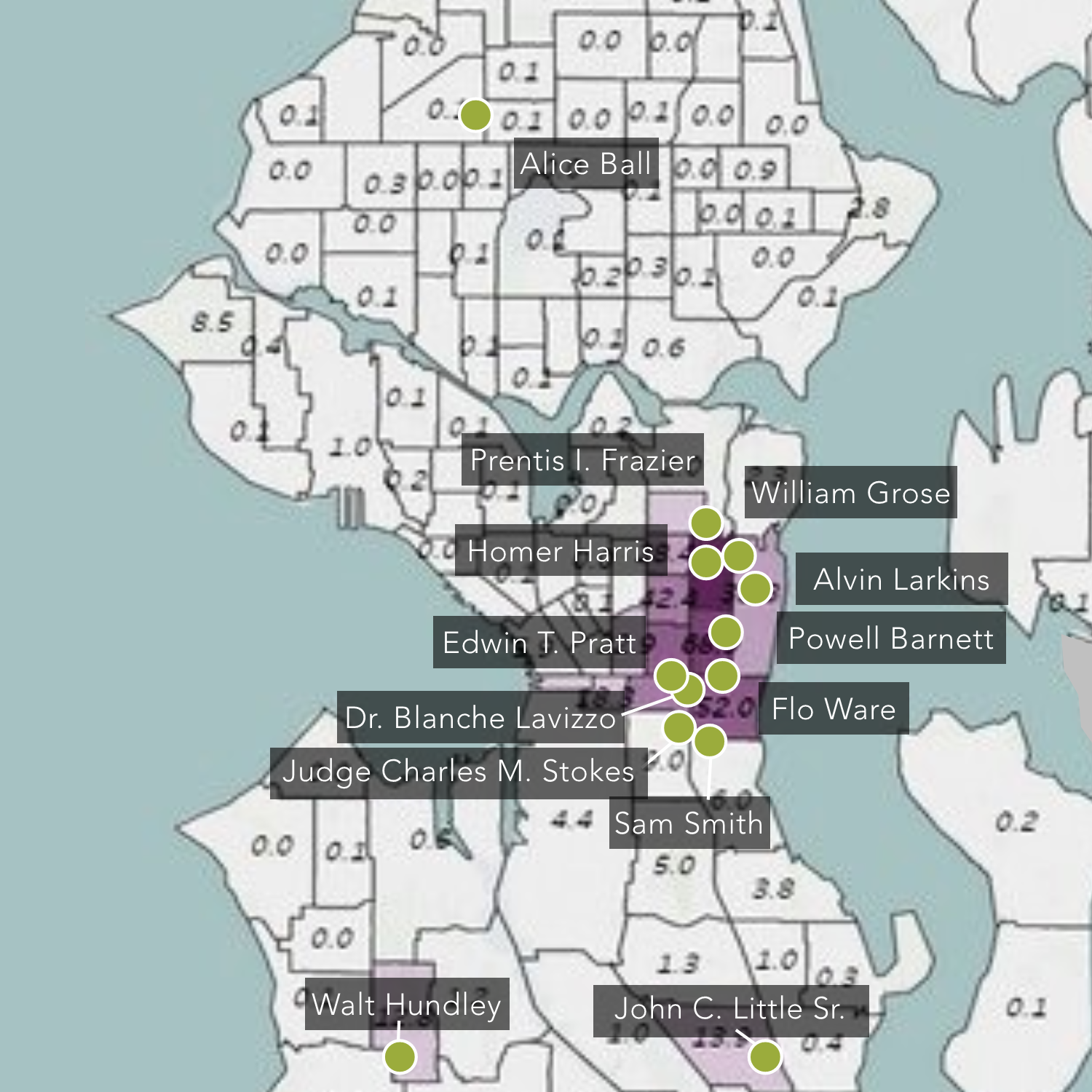 1970 census data showing where Black people live in Seattle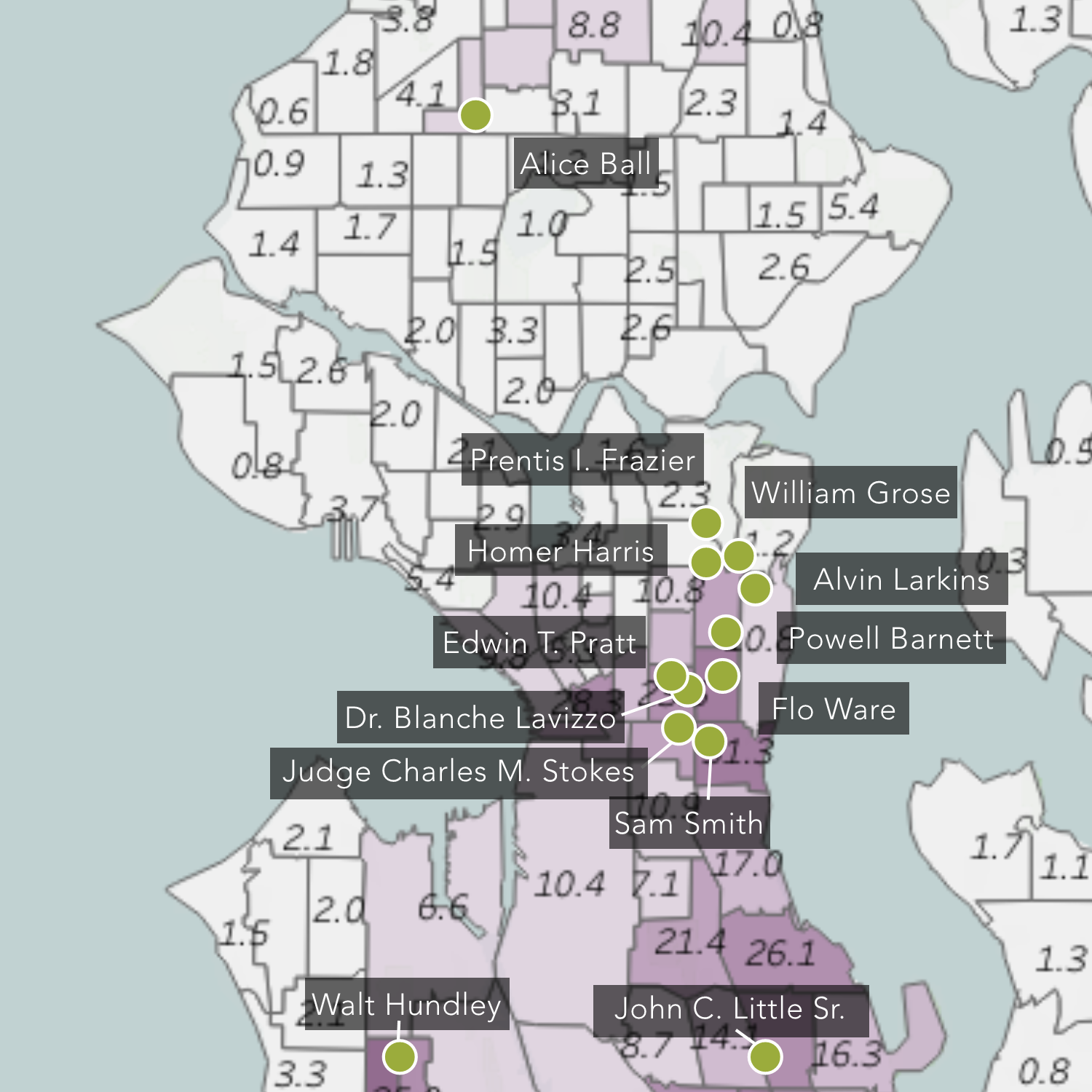 2010 census data showing where Black people live in Seattle
As mentioned above though, the Central District is rapidly gentrifying. Despite being the sole community open to Black individuals for most of the history of Seattle, today only 18% of CD residents are Black. That's down by over 55% since the 1970s. While some of that may be attributed to increased Black mobility after 1968, in many ways we should recognize that gentrification has replaced segregation as a displacing force. We should continue to explore how environmental work contributes to gentrification.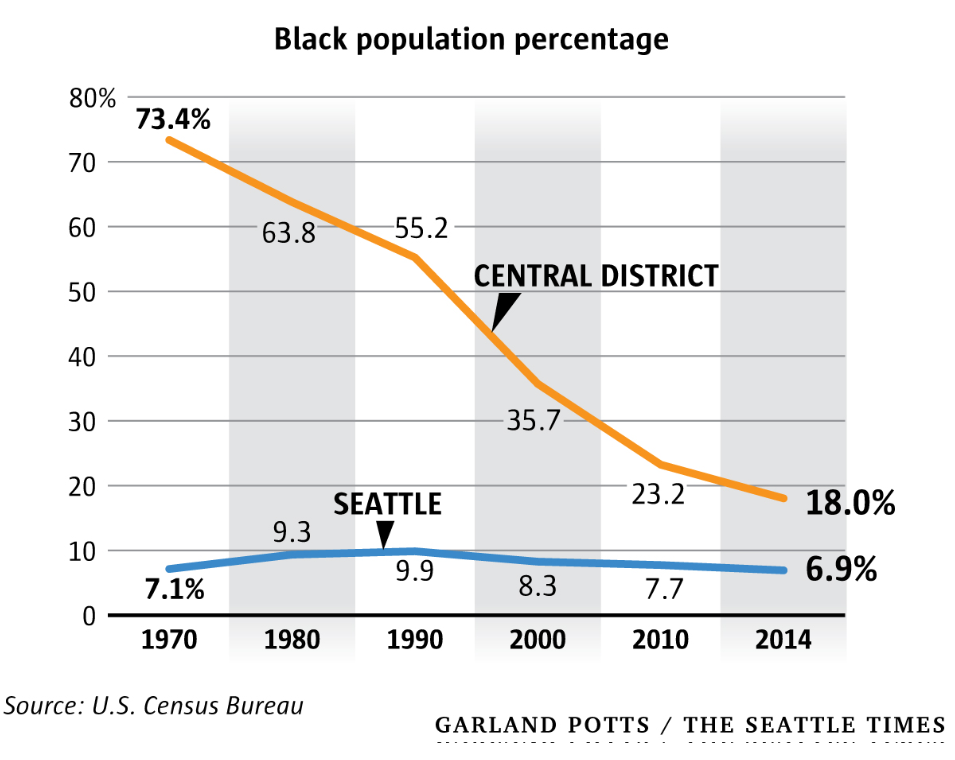 The Intersection of Canopy Cover and Inequity
At GSP we continue to develop our understanding of how equity intersects with our work. A 2016 report on Seattle's canopy cover reveals some good trends, but also highlights areas of inequity. The graph to the right shows the inverse relationship between tree canopy and people of color in our communities. While the data points are somewhat scattered, there is still a statistically significant inverse relationship between and canopy, and the number of BIPOC individuals living in an area.