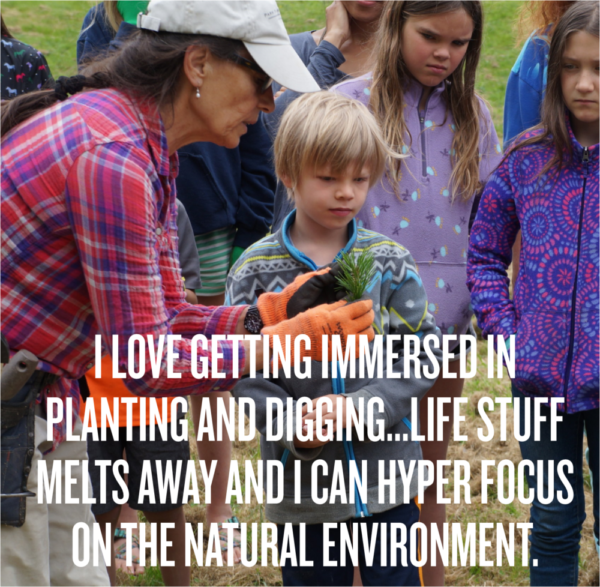 How long have you been involved with Green Seattle and why did you chose the park where you work?
I've been volunteering for 5 plus years. I chose Pritchard Beach because it's a beautiful setting; it has a pond which adds complexity, and interest. It had been restored earlier and had foundation to build on, and my friend Catherine wanted to get involved and co-steward with me.
What keeps you volunteering with the Green Seattle Partnership?
I love getting immersed in planting and digging. When this happens, the everyday life stuff melts away and I can hyper focus on the natural environment.
Do you have a favorite memory from your involvement?
I have many funny and favorite moments. A highlight was at the beginning of a work party at Pritchard Beach, we spotted an owl on a low branch near the path. The kids and parents were transfixed, and sparked some great conversations during the work party and afterwards.
What is something funny or unusual that has happened at an event/while volunteering?
On an especially drizzly day, my co-steward, Catherine showed up in a wet suit. I missed the event, so hearing about it second hand in an email was hilarious.
What part of the work makes you feel that you are making a difference in your community through forest restoration?
Grateful neighbors showing interest in the restoration work, interacting about the wildlife and plants.
Is there a specific time when you looked at your restoration and felt like you were finally making progress?
When we managed to clear most of the blackberries from the meadow and began to see the native wildflowers and conifers springing back to life.
If you were plant species found at your restoration site (native or non-native) which would it be and why?
Non-native plants would be blackberry, and bindweed. My favorite work horse plant is the slough sedge. I've just gotten to know it since I started working in this wet environment, and I order it every year to expand its range. It fills in beautifully under Oregon ash and Western redcedar in the wet areas.
If you aren't working in the park where would we most likely find you and what would you be doing?
I would be working in my garden, walking in the parks, kayaking, hiking in the mountains. I like to spend part of everyday outside.
Anything else you want us to know?
I feel very grateful to have this opportunity to volunteer as a forest steward. It's like a new career. One I dreamed of pursuing but didn't have the opportunity when I was younger. As a retired person it is such a joy to work at something that feels like a vacation.