An Earth Day Celebration
April, also known as Earth Month, has come and gone; but it's always the time of year when folks in our communities are looking for ways to give back to the environment. 
You've probably heard of Earth Day which is celebrated every year on April 22nd, but have you heard of Duwamish Alive! Earth Day?
Duwamish Alive! Earth Day 2019 was celebrated on Saturday April 20th. This annual day of service had a total of 14 project sites that hosted 600 volunteers in restoration events across the Green-Duwamish watershed. Volunteer activities included removing invasive weeds, picking up litter, planting native plants and mulching.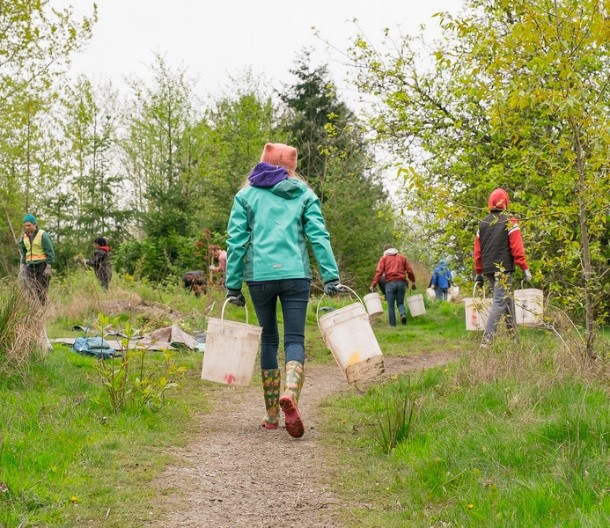 Supporting Orcas and the Community
This year, Duwamish Alive! Earth Day focused on the Puget Sound Orca. The Duwamish River is home to five species of salmon that spawn in its streams and creeks, including the threatened Chinook salmon which are the primary food for the Southern Resident Orca. By helping to improve and maintain the health of our natural areas, volunteers are also improving the air and water quality throughout our watershed.
On top of the restoration events this month, Duwamish Alive also hosted two community fairs. These Earth Day fairs took place at T107 Park and Roxhill Bog and included a welcoming ceremony with special guest speakers, craft activities and informational booths. The fair at Roxhill Bog also provided bog tours led by a naturalist guide.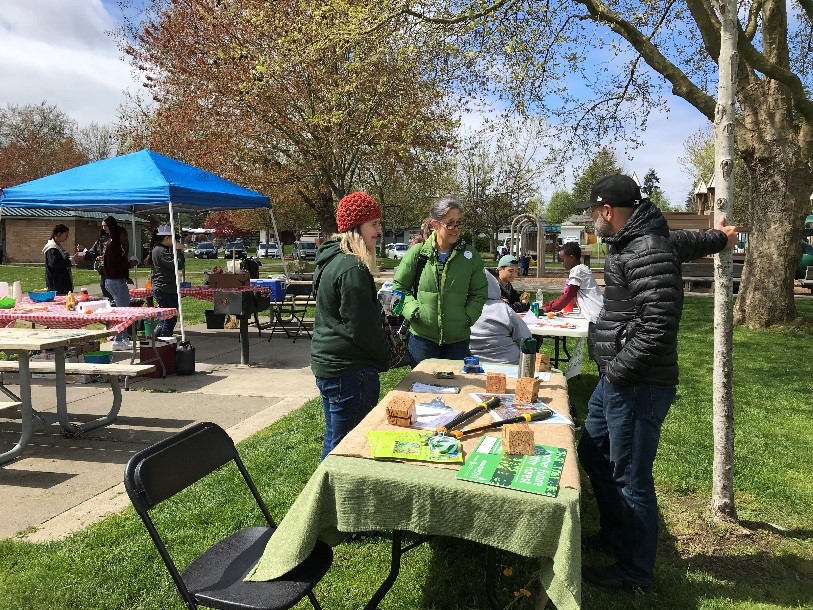 So… what exactly is Duwamish Alive?
Duwamish Alive is a coalition of conservation groups, businesses, and government entities within the Green-Duwamish River Watershed. Since 2005, these groups have come together to protect and restore the health and habitat of the Duwamish River and its watershed for both wildlife and communities. Collaboration is a key element to Duwamish Alive. The coalition allows participating organizations to share ideas, provide support for one another and keep updated on projects and events.
Check out the complete list of Duwamish Alive partners.
Twice a year, the coalition organizes a day of service to bring volunteers together at several restoration sites along the river and in surrounding forests. The Duwamish Alive! Earth Day event happens on the 3rd Saturday of April, while the Duwamish Alive! Fall event takes place on the 3rd Saturday of October. Together, these collaborative events provide a crucial boost to year-round efforts to restore the watershed.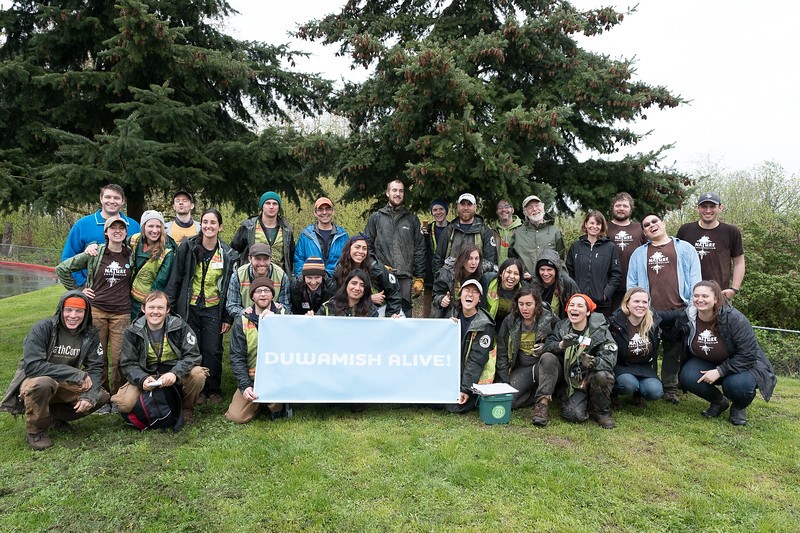 Duwamish Alive! Coalition Accomplishments
Along with Duwamish Alive! events, here are some other ways the coalition is achieving our goals:
Education not only of environmental issues ad awareness, but of historic and cultural connections, such as: increasing awareness of John Beal's work in the environmental field, veteran's health, initiating the restoration of the Duwamish River and showing the power of volunteerism.
Green-Duwamish Watershed Symposiums and 
Workshops where Duwamish Alive is addressing challenges and needs, 
sharing information and fostering collaboration throughout the watershed.
Building Green Infrastructures through community projects like berms, rain gardens & green walls.
John Beal Environmental Stewardship Award,

to honor exceptional volunteers; and the

Green-Duwamish Champion Award 

to honor those who have made outstanding efforts for improving the environmental health of the watershed.
Volunteer Year Round
If you missed the Duwamish Alive! Earth Day events this year, don't worry; the coalition's online calendar has other upcoming opportunities and you can always join us for our next big event in October. Hope to see you there!