If you invest time, energy, or funds into the work of the Green Seattle Partnership, we consider you a shareholder in our success. Once a year, we take the opportunity to gather our shareholders together at our annual event to network, discuss where we have come from, share what we are doing citywide, and report on the state of the Partnership. There is no cost to attend.
Shareholders Agenda
12:00 pm – 1:00 pm Shareholder arrival and sign-in
12:15 pm – 1:00 pm  Yesler Swamp Boardwalk Stroll and/or Poster Session in Merrill Commons
1:00 pm  Program Welcome and Introduction in NHS Hall
Keynote Speaker: Dr. Nalini Nadkarni, a Professor of Biology at the University of Utah, is known as "the Queen of the Forest Canopy."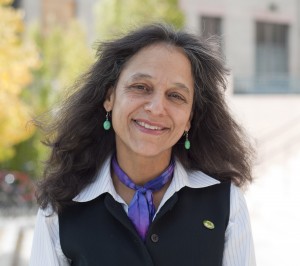 For three decades, Dr. Nadkarni has used mountain-climbing techniques, construction cranes, and hot air balloons to explore life in the treetops, and to place this knowledge in the context of environmental issues such as biodiversity loss, climate change, and sustainability of forests.  Recently, she has created interdisciplinary pathways to understand the dynamics of disturbance and recovery across diverse academic disciplines. Dr. Nadkarni has authored 120 scientific articles and three scholarly books, supported by the National Science Foundation and the National Geographic Society. She is also a passionate communicator about nature to people in all walks of life, and has created innovative programs that bring science lectures and conservation projects to non-traditional public audiences such as faith-based groups, urban youth, modern dancers, rap singers, and incarcerated men and women. Her recent awards include the National Science Foundation Public Service Award, the AAAS Award for Public Engagement, the Archie Carr Medal for Conservation, and the William Julius Wilson Award for Achievement in Social Justice.
State of the Partnership: GSP staff will review accomplishments from the previous year and program-to-date, highlighting positive outcomes from the investment of GSP Shareholders as well as notable challenges moving into year twelve of our urban restoration effort.
Panel and Facilitated Discussion: Panel members representing the three focus of the 20-Year Plan – Restoration, Community Engagement and Resource Acquisition – will speak about these topics and how they are being addressed in the 20-Yr Plan Update and associated strategies to help GSP achieve its goals. Participants will be invited to raise questions/comments.
3:00 pm – 4:00 pm  Social hour and Poster Session in Merrill Commons. Snacks and beverages will be served while participants have the opportunity to continue reviewing posters and tables, connect with familiar cohorts and meet new friends.
This event is free. Please RSVP in advance by registering here before January 21, 2017:
Learn more about hosting an outreach table or displaying a project poster at the 2017 GSP Shareholders Meeting.
If you would like to receive a monthly newsletter with the latest information about upcoming events, volunteer opportunities, and other news from the Green Seattle Partnership, please join our mailing list.
Resources from past Shareholders Meetings:
2015 "Game Changers and Beyond" Meeting at South Seattle College
Presentation | Shareholder Feedback | 2015 Poster and Table Session Participants
2014 "Are We There Yet?" Meeting at South Seattle College 
Presentation  |  Shareholder Feedback
2013 "Power to the Partnership" Meeting at Seattle Center 
Presentation  |  Shareholder Feedback
2012 "You Need Seattle's Forests, and Seattle's Forests Need You" Meeting at REI Seattle Flagship Store 
Presentation  |  Shareholder Feedback
2011 "Keeping the Green Seattle Partnership Alive in Trying Times" Meeting at REI Seattle Flagship Store