"Gamechangers and Beyond"
Tuesday, September 29, 2015 from 4-8 PM
The Brockey Conference Center at South Seattle College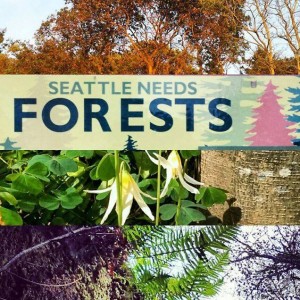 You invest time and energy into the Green Seattle Partnership. This is our annual event to network, discuss where we have come from, share what we are doing citywide, and report on the state of the Partnership. There is no cost to attend the meeting, and a light dinner will be served.
Proposed Agenda
4-5 PM
5-6 PM
6-6:30 PM
6:30-7:30 PM
7:30-8 PM
Registration, poster session, and social hour
Formal program opening and "Treenote" speaker (TBD)
State of the Partnership address
Focus on 10-yr update to the GSP Strategic Plan
Wrap up discussion and next steps
Call for outreach tables and posters – present your program!
(please opt in to email notices so we can stay in touch closer to the event date)
Resources from past Shareholders Meetings:
2014 "Are We There Yet?" Meeting at South Seattle College 
Presentation  |  Shareholder Feedback
2013 "Power to the Partnership" Meeting at Seattle Center 
Presentation  |  Shareholder Feedback
2012 "You Need Seattle's Forests, and Seattle's Forests Need You" Meeting at REI Seattle Flagship Store 
Presentation  |  Shareholder Feedback
2011 "Keeping the Green Seattle Partnership Alive in Trying Times" Meeting at REI Seattle Flagship Store