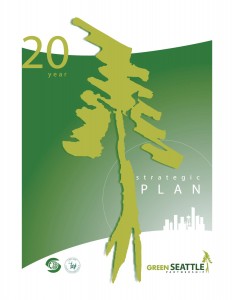 This Strategic Plan, written in 2006, describes the problems facing Seattle's forested parklands, the Green Seattle Partnership solution, and how we will implement it.
You can download the PDF (10 MB) to review the entire 20-Year strategic plan.
Are We There Yet?
A presentation from our staff as the Partnership turns 10.
10-year Strategic Plan Update Process:
Summary of committee survey results
Summary of Forest Steward survey results
Curious about Seattle's Forested Parklands?
Seattle Parks Department recently launched its 10 Year Strategic Plan Update of the Green Seattle Partnership.  The purpose of the update is to evaluate the state of Seattle's forested park lands since GSP began in 2005 and update the plan so we can continue to achieve GSP's three main goals:
1.       Restore all 2,500 acres of Seattle forested parklands by 2025.
2.       Establish financial and volunteer resources to provide long term maintenance and ensure the sustainability of forested parklands.
3.       Galvanize an informed, involved, and active community around forest restoration and stewardship.
The City has hired HBB Landscape Architecture to assist in this process.  With their understanding of the issues and proven ability to facilitate the public involvement process, they will help ensure the update is a success by creating a clear, balanced and accurate document.
The process began with an informal survey of the GSP committee members and Forest Stewards. Public involvement will also include presentations to various City of Seattle Boards and Commissions related to the Green Seattle Partnership.  Working closely with GSP and Seattle Parks Staff, HBB will produce a document which will outline how the program has evolved since inception, celebrate its successes and create a vision for reaching 2025 and beyond.  The plan will identify areas for opportunity, outline how the vision and goal will be achieved, and establish community support for our forested parklands beyond 2025.
We will be working on the update over the summer and will reach out to the community in early September and October.  We want to hear from you!  Below is a list of meetings and presentations open to the public:
Draft Plan Update:
September 9th, Urban Forestry Commission
TBD, Neighborhood District Council
September 10th, Seattle Board of Park Commissioners
Final Plan Update:
October 7th, Urban Forestry Commission
TBD, Neighborhood District Council
Seattle Board of Park Commissioners